Announcement of Award Recipients – Research on Forced Migration & Humanitarian Assistance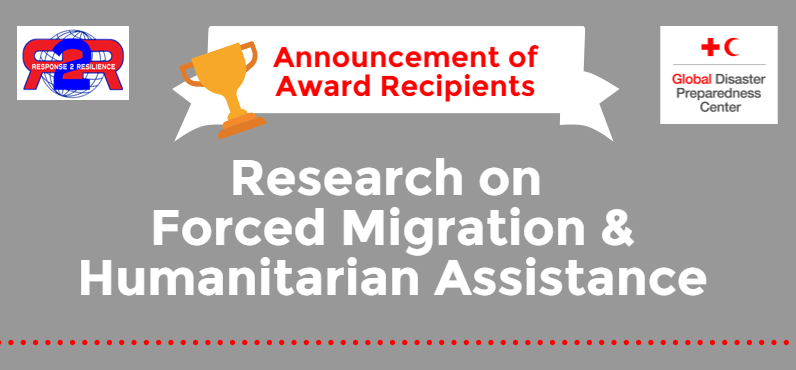 According to the International Organization on Migration the number of international migrants worldwide in 2015 was the highest ever recorded with 244 million people on the move (from 232 million in 2013). Similarly, the year 2015 saw the highest levels of forced displacement recorded globally since World War II, with a dramatic increase in the number of refugees, asylum-seekers and internally displaced people across multiple regions of the world. Some 8.6 million persons were newly displaced in 2015 alone, largely due to continued conflict in the Syria. (http://iomgmdac.org/global-trends-factsheet/). With an estimated 10,000 people who lost their lives in trying to cross the Mediterranean Sea in the last three years alone, the migration flows from Africa and the Middle East into Europe have drastically increased the awareness of the risks and despair caused by forced displacement.
The risk and dangers of forced migration are many and range from risks of being subject to smugglers, human traffickers, discrimination, exploitation, fiscal and sexual violence, losing access to traditional support systems, health care and welfare services to long-term impacts on psycho-social wellbeing, risk of depression, isolation, cultural and language issues, lack of education etc. Beyond the refugees themselves the migration process has significant impact in the countries of origin, transition and/or destination.
Despite humanitarian efforts to address the most severe needs and attempts to find political solutions that reduce the drivers of forced migration, there is no foreseeable relieve to the current situation. On the contrary, climate change induced extreme events, protracted conflicts and other social and political stressors are likely to increase large scale displacements. To confront these trends, it is imperative that we make every effort to learn from current experiences and find new approaches that can inform disaster preparedness and response efforts. To this end, the Global Disaster Preparedness Center (GDPC) together with the Response 2 Resilience Institute (R2R) launched the Research for Resilience and Preparedness Grants Program with a focus on 'Forced Migration and Humanitarian Assistance: Critical Implications and Integral Solutions'. By supporting action oriented research, the program aims to capture relevant experiences and explore new solutions that enable humanitarian actors and policy makers to address the complexities of forced migration and inform future programming. The grants program supports researchers to examine the causes and effects of forced migration in order to improve response to humanitarian crises and protracted refugee situations in the most vulnerable communities.
Out of dozens of proposals received in response to the call from all over the world, the GDPC together with R2R selected three winning proposals for funding. The winning projects highlight the diversity of topics that are relevant in the discussion on how to reduce vulnerabilities related to forced migration. Through practice oriented research and learning the projects will inform and enhance capacities of humanitarian and development actors including Red Cross Red Crescent societies to address the multi-faceted risks of forced migration. The three winning proposals are:
50K Award
Systematic Screening for Sexual Violence as a Cause and Impact of Forced Migration among South Sudanese Refugees in Uganda.
Institution: Refugee Law Project, Makere University, Uganda
Principal Investigator: Dr Dolan Christopher Gerald (dir[at]refugeelawproject.org)
Abstract: A lack of context and gender-specific prevalence data on experiences of sexual violence amongst refugees in a humanitarian crisis hinders the development of appropriate and cost-effective responses. Inadequate, inappropriate or non-existent services aggravate the negative consequences for survivor, family and community alike. This research utilizes an existing screening tool that has been proven in Refugee Law Project's work with urban refugees, and applies it in a situation of mass influx of South Sudanese to rural refugee settlements. It addresses two over-arching questions: Firstly, can screening for experiences of sexual violence be readily done in an emergency setting and what are the implications of these findings for humanitarian sexual violence prevention and response interventions; referral pathways, sector-specific training needs, budgeting, etc? Secondly, what do the screening results tell us about the importance of sexual violence as a cause of flight for refugee women and men, and about the needs of survivors in this influx in particular? To influence humanitarian thinking more widely findings will be disseminated through a wide range of electronic platforms and integrated into post-graduate teaching programs and stakeholder training activities
If project goal and objectives are achieved, what difference will it make?
For humanitarian work in support of migrants: If feasibility and reliability of systematic early screening are established, humanitarians will be able to use this tool with confidence to a) make evidence-based decisions on the level of resources to seek for support to survivors of sexual violence b) to shape these interventions to context-specific gendered patterns of victimization c) to ensure that the humanitarian imperative to truly respond to those in need and that the human right to access appropriate services is enjoyed by all survivors of sexual violence
For Red Cross/ Red Crescent national societies: The use of simple screening tools, and the resultant data will change the entire landscape of sexual violence response and prevention, making it easier for national societies to construct the case for support and to develop appropriate skills-sets. In the long term this will break down traditional taboos about discussing sex, sexual violence, sexuality, as well as related gender norms
For communities: the creation of a 'micro-climate' in which direct questions about traditionally taboo topics can be asked and answers given, reduces the stigmatization of victims, speeds up their recovery and thus their economic, social and political contribution to the community.
25K Award
Implications of refugee settlements on the natural environment and on refugee and host community resilience (case studies: Lebanon and Cameroon)
Institution: Groupe Urgence Réhabilitation Développement
Principal Investigator: Samantha Brangeon (sbrangeon[at]urd.org)
Abstract: The proposed research aims at further exploring the links between forced migration and environmental concerns. In refugee contexts, resource management tends to be dominated by a short-term outlook to the detriment of long-term environmental impacts. The priority given to addressing the life-saving needs of refugee populations often means that additional strain is put on ecosystems and natural resources: overuse or pollution of water tables, pollution created by poor waste management, extensive use of wood for income-generating activities or for cooking etc. Humanitarian aid organizations working in relief operations also have an impact on the environment in which they work (e.g. the waste that they generate, wastewater management issues). A deteriorated environment can have a significant impact on the capacity of both host and refugee communities to resist, adapt and rapidly recover from prolonged stresses and shocks. This research will aim to provide an analysis of specific environmental stresses (and their consequences) caused by the presence of refugee communities in two contexts where both the scale and the speed of migration movements have had a significant impact on natural resources (Lebanon and Cameroon). It will also aim to identify solutions which could be developed to reduce these environmental stresses, thus improving the quality of the aid provided in these two contexts, and potentially in other contexts. This research will contribute to existing efforts to mainstream environmental concerns in humanitarian work. It will aim to help aid organizations to avoid, minimize, or mitigate environmental impacts and to promote environmentally responsible humanitarian programming and policy making.
If project goal and objectives are achieved, what difference will it make?
To humanitarian work in support of migrants: By carrying out a comparative analysis of two very different contexts, the research team will continue to document innovative solutions to reduce the environmental impacts of migrants on their hosting environment as well as of relief organizations. Initiatives that have proven to be effective in these specific contexts and others that have been more problematic, will therefore be analyzed and shared to inform refugee work in other contexts. In both contexts, this research will come 4-6 years after the arrival of the refugees. Thanks to this research, humanitarian organizations:
· will have access to information on how to mainstream environmental considerations into their work including concrete solutions which have been tested in other contexts
· will be able to be more accountable to affected populations and host communities (the "Do no harm" principle)
· will help to bridge the gap between host and refugee communities whose resilience both equally depends on their environment.
For Red Cross/ Red Crescent national societies: This research will contribute to Red Cross and Red Crescent societies' commitments to address the challenges of environmental degradation and promotion of sustainable practices. IFRC's partnership with the Green Cross International as well as its work on the Green Response Practice Notes (ex: Haiti and Salvador in 2014) will also be enhanced.
For Communities: By promoting sustainable practices, this research will in turn contribute to reinforcing host and refugee communities' capacity to resist, adapt and rapidly recover from prolonged stresses and shocks.
25K Award
Monitoring mixed migratory movements in Mali and Niger with a view of developing more effective protection and solution strategies
Institution: Regional Mixed Migration Secretariat, Danish Refugee Council
Principal Investigator: Thomas Munsch (rmms-wa[at]drc-wa.org)
The West Africa region is characterized by significant and complex population movements, with substantial numbers of people moving both inter-regionally and to North Africa and Europe. Despite the scale of migration and displacement in West Africa there are virtually no systems in place nationally or regionally to monitor the profiles of those on the move, the factors that drive or influence migration flows, nor the protection risks that different groups of migrants face while on the move. This lack of quality data greatly affects the developments of effective policies and programs aimed at addressing the different aspects of migration in particular forced migration in the region.
The 4Mi project is an innovative and cost-efficient project that aims to inform more effective protection and solution strategies for migrants and displaced people by gaining a greater understanding of the drivers of movement and the profiles, vulnerabilities and risks faced by migrants along the migratory routes form West to North Africa and to Europe. Through a network of locally recruited 'monitors' in key migration hubs both in Mali and Niger, the 4Mi project will collect information directly from migrants, host community members and, where it is possible, people engaged in smuggling.
A custom-designed smartphone application will ensure the interview data is standardized and enable the monitors to submit real-time data on the profiles of migrants, drivers of migration, protection risks, destination countries and the role of smugglers. The resulting in-depth analysis and presentation of this data online and through a report will inform policy, debate, advocacy, and programmatic response, informing the development of more effective protection and response strategies and improving the protection of those in mixed migration flows from West Africa.
If project goal and objectives are achieved, what difference will it make?
To humanitarian work in support of migrants: The information and data collected through the 4Mi project will contribute to humanitarian work in support of migrants in many regards. The 4Mi project aims specifically at providing information and data about migration and the protection risks associated with migration in order to inform the development of more effective protection and response strategies. Moreover, in a context of increasing xenophobia and intolerance vis-à-vis migrants in many countries, documenting the amount of suffering and the broad range of human rights abuses that migrants are victims of can contribute to sensitizing people and communities to their plight. IFRC has designed a global initiative to build solidarity and empathy for vulnerable migrants ("Protecting humanity: Stop indifference") and the result of the 4Mi project would offer further evidence of the fact that urgent action is needed to guarantee the safety and protect the dignity of migrants. The data that is generated by the project will help to inform such action.
For Red Cross Red Crescent National Societies: National Red Cross and Red Crescent Societies and the RCRC Movement in general have an important role to play with regard to migration. A "Response plan to meet the humanitarian needs of vulnerable migrants' was adopted to respond to the migration crisis around the Mediterranean basin, but the Movement has a role to play in other contexts as well, as auxiliaries to their governments and with the a presence in every country along migratory routes (countries of origin, transit and destination). While humanitarian actors often neglect West Africa and the Sahel, the humanitarian needs are particularly important in the region and some National Societies such as the Nigerian Red Cross and the French Red Cross are already providing critical assistance to migrants in Agadez. The information collected through the 4Mi project could help National Societies concerned to design protection and assistance activities in favor of migrants in a more effective way. A better understanding of the protection needs of migrants will also inform the National Societies awareness raising activities and their work with communities towards a better social inclusion of migrants.
For communities: In relation to the communities, it seems that a large number of migrants make their decisions about whether to migrate and how to travel on the basis of misinformation and misleading advice, with smugglers and traffickers often purposively deceiving them. The collection of data and information on the risks faced by migrants during their journey will contribute to effective awareness raising campaigns aimed at providing information to potential migrants, so that they can make decisions in full knowledge of the risks. As people from Mali and Niger represent a substantial number of those risking their lives through the desert towards North Africa and Europe, developing awareness raising activities targeting communities of "would-be" migrants in both Niger and Mali on the basis of accurate information regarding the risks associated with the journey could contribute to alleviating the migratory pressure and saving lives.