Call for Proposals: Consultancy for Design Solutions For City Resilience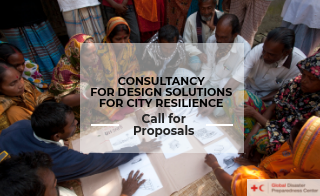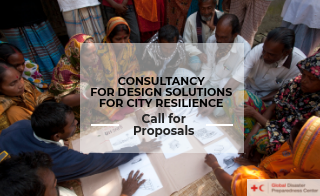 The Global Disaster Preparedness Center (GDPC) is requesting proposals for a new consultancy on Consultancy for Design Solutions For City Resilience
Working in collaboration with the IFRC and American Red Cross, the GDPC has received an award (to be referred to as the Coastal Cities Project) from USAID/OFDA to design and test a set of tools and services to assist RCRC National Societies and other local organizations to create effective city coalitions on community resilience, targeting climate smart resilience and coastal risk reduction in particular. The idea is that the RCRC National Societies or other local organizations would convene relevant partner organizations in lasting coalitions to focus city-wide expertise, capabilities, and resources on priority risks facing vulnerable communities in the city. The coalitions are intended to complement existing urban governance processes led by the local governments and draw wider support from the business community, universities, civil society organizations, and other stakeholders into city-wide civic engagement on community resilience.
The GDPC seeks consultancy services to the overall design, development, prototyping and coaching services for the design solution process and a toolkit to help city coalitions develop and implement viable, inclusive and sustainable solutions to the priority problems identified.
The Consultant(s) will deliver the four following outputs:
1) Development of a cutting-edge methodology for a participatory solution design process which
a. Focuses on inclusive community resilience
b. Complements existing resilience assessment and coalition-building processes and methodologies developed under the project; this also will link with the community-level assessments which the National Societies will use to facilitate a deeper analysis of the issue identified through city-level assessment.
c. Takes into account evolving innovation initiatives and technology available to communities
d. Facilitates iterations on the design process to refine and combine solutions for use in addressing community resilience at scale across countries
e. Takes into consideration the process, experiences and learning of the pilot design solutions process exercises done in the current three project cities. This could be done through interviews/meetings with by visiting the cities or through skype.
2) Piloting of the methodology and materials in the project city of Myanmar. Documenting the process and incorporating feedback and learning into the finalized versions.
3) Development of a toolkit that would help Red Cross Red Crescent National Societies, local government leaders and communities to apply similar design solutions processes in the city communities. 
4) At the end of the consultancy, submit a final report of the process, summarizing the lessons learnt, successes and recommendations for improving the process and the materials. 
Please see the attached Terms of Reference for additional information on the consultancy and the submission guidelines.
Submission of proposals: deadline December 21st, 2017. Please send your application with required supporting docouments to the email address colin.fernandes@redcross.org and paul.rebman@redcross.org with the subject line SOLUTION DESIGN PROCESS (Name and Organization).