Digital Serious Games and Immersive Technologies for DRR/DP Learning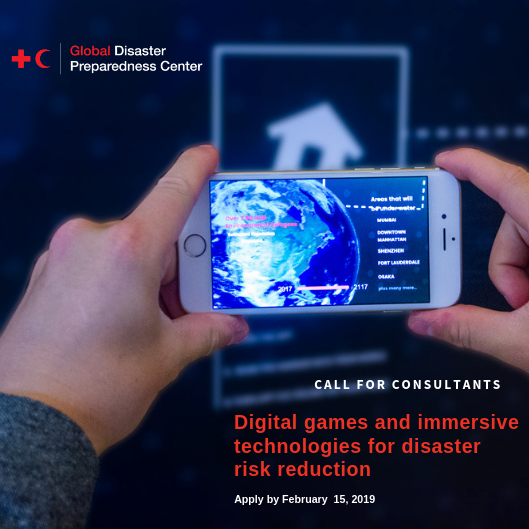 Request for proposals
The Global Disaster Preparedness Center (GDPC) seeks for consultants to collect case-studies of the design, development and lessons learned from serious digital games and immersive technologies in relation to education, as could benefit disaster preparedness programming in schools. 
School safety is an identified priority in preparing communities to face disasters. Meanwhile, technology is constantly evolving with digital games and immersive technologies projected to have increased relevance for K-12 and higher education worldwide. With such priorities and rapid development, the GDPC is interested in capturing lessons learned in the field of technology for preparedness education. 
Deliverables: 
In collaboration with GDPC, develop a list of 8-10 suitable case studies, both within and outside of the International Red Cross Red Crescent Movement;
Generate an augmented literature review of suitable examples of real-world use of serious games or immersive technology (VR/AR) for educational and/or school preparedness outcomes;
For each augemented source, generate a brief case study highlighting the learning from the design, delivery, and receipt of the intervention, Generalte a meta-analysis based on the case studies conducted, to hightlight key learning points to be applied for future deployment of this type of technology for school preparedness.
How to Apply
Interested and suitable candidates should submit a resume and a one-page cover letter that confirms availability and outlined their qualifications for the position.
The last date of submission is Friday, February 15, 2019 (at 11:59pm, EST). Please send your application with required supporting documents to the following addresses: gdpc@redcross.org with the subject line  "Case Studies – Digital Tech."
Read more information on the PDF.