RFP: Proposal Development Support 2023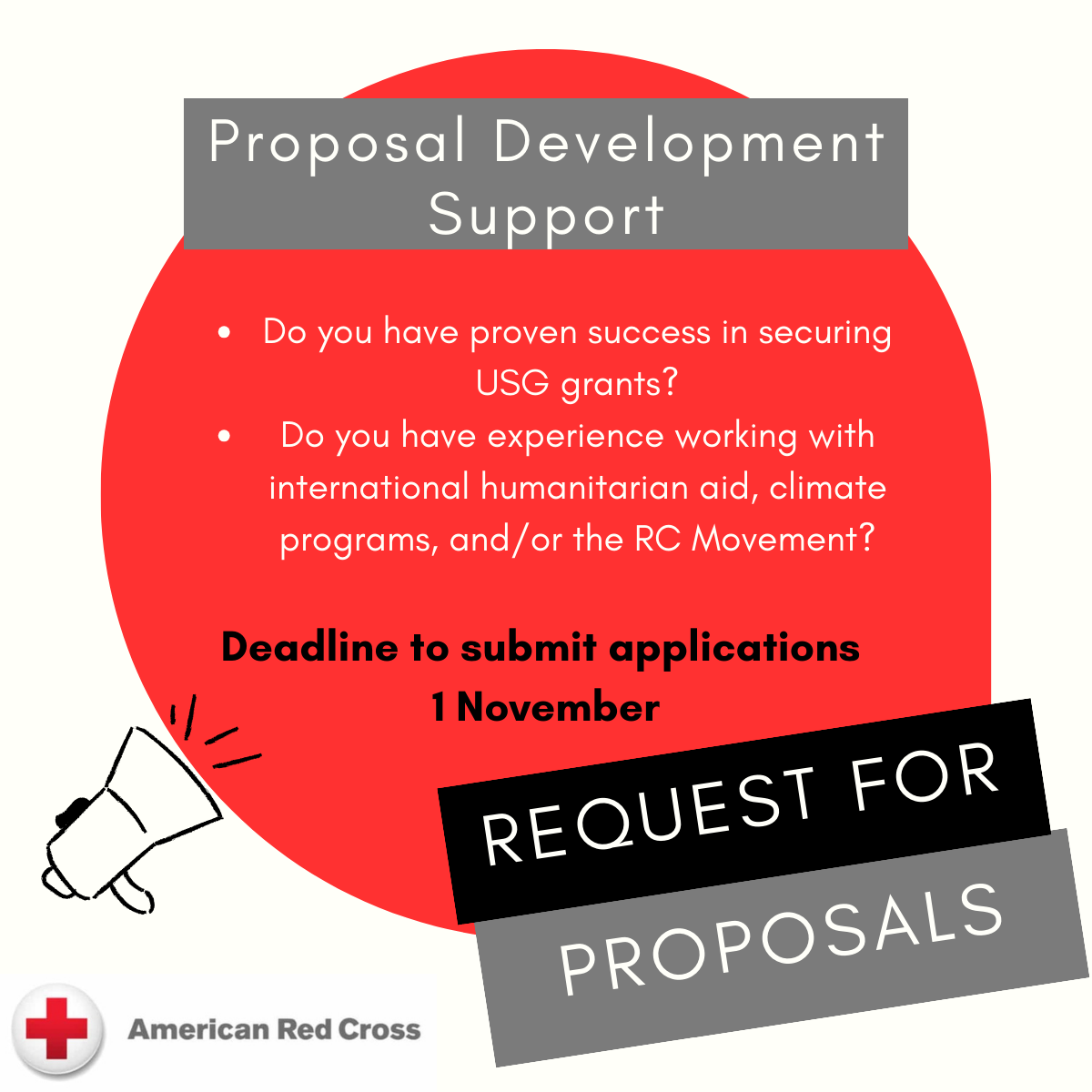 Launched in 2022, the Climate Initiative from American Red Cross International Services Department (ISD) is a multi-year, multi-million-dollar investment to assist the most vulnerable communities in the Red Cross Red Crescent network facing significant risks from extreme weather and climate related disasters. Some of the most vulnerable communities to climate-related disasters (such as extreme heat and coastal threats) are in the Eastern Pacific (including Southeastern Asia and the Pacific Island nations) and Latin America (including the Caribbean). Therefore, nations from these regions are included in the Climate Initiative scope. These nations have high climate impact risk as most currently lack the proper resources to prepare and adapt to the risks faced by a changing climate.  
The initiative focuses on three key areas of assistance to best serve climate disaster-affected communities in the most equitable, compassionate, and thoughtful fashion. These three key focuses are urban resilience, youth engagement, and Anticipatory Action (AA) (including early warning actions and preparedness efforts). 
In line with the International Climate Initiative, American Red Cross is seeking to help priority and climate countries become more resilient and adapt to the worsening impacts of climate change (see Annex for a list of these countries). To assist with this large-scale commitment, ISD plans to submit several proposals to US government agencies for climate and preparedness funding. The selected contractor will work to support proposal development by providing research, drafting technical narratives and/or proposal annexes, and other inputs for proposal packages. They will support the overall operations of successful, compliant, competitive, cogent, and compelling US government proposals. The contractor may work on a wide range of funding pursuits including but not limited to: Concept Notes, solicited and/or unsolicited proposals, responses to Request for Information (RFIs), responses to Request for Proposals (RFPs), and more.  
The purpose of this contracted service is to succinctly respond to grant funding opportunities once a relevant proposal is identified by American Red Cross. The contractor will be notified of the need for the contracted team's services, at which time the contracted team will be available to begin writing a proposal within 5 business days. 
Responsibilities & Deliverables 
The overall deliverable of this term contract work is to support in the writing, development and delivery of several climate and/or preparedness related proposals to US government agencies. The following reflects the required responsibilities and deliverables expected as part of this scope of work: 
Initial consultation on individual proposal requirements expectations 
Delivery of draft proposal elements with 2-3 rounds of edits upon request 

Delivery of final proposal documents in accordance with deadlines set by the proposal lead/team 

Alignment of final proposal product with all USG requirements 

Engage with key proposal personnel within American Red Cross as needed, in a timely manner prior to proposal deadline 
Ensure compliance, high-quality content and appearance of final proposal deliverables (American Red PDPD) 
The number of proposals the Contractor will develop in the duration of this contract will depend on: 
Relevant proposals identified by key personnel within ISD 
Level of effort needed, determined by key personnel within ISD