Related Resources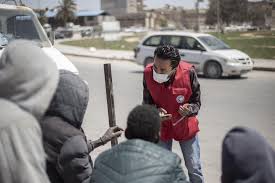 26 Oct 2020
The Covid-19 pandemic continues to have a profound impact on the regional dynamics of migration and mobility, with profound health, social and economic consequences for the most vulnerable, including migrants, displaced populations and their communit...
Tags: Report, COVID-19 (Coronavirus)
16 Nov 2018
Preparedness for Effective Response (PER) is a cyclical approach for a National Society (NS) to systematically assess, measure, and analyse the strengths and weaknesses of its response system in order to take remedial actions. The PER approach puts t...
Tags: Guidance material, Capacity Building for Disaster Risk Management, Community Risk Assessment
24 Jun 2015
Be Prepared, a Disaster Song by Swipe, Eclipse & Avonni from GBSS School from Grenada has eventually been released! More songs will follow after the final of the Song Competition Spice it up – Sing for Preparedness, on June 23rd at the G...
Tags: Video, Youth Preparedness