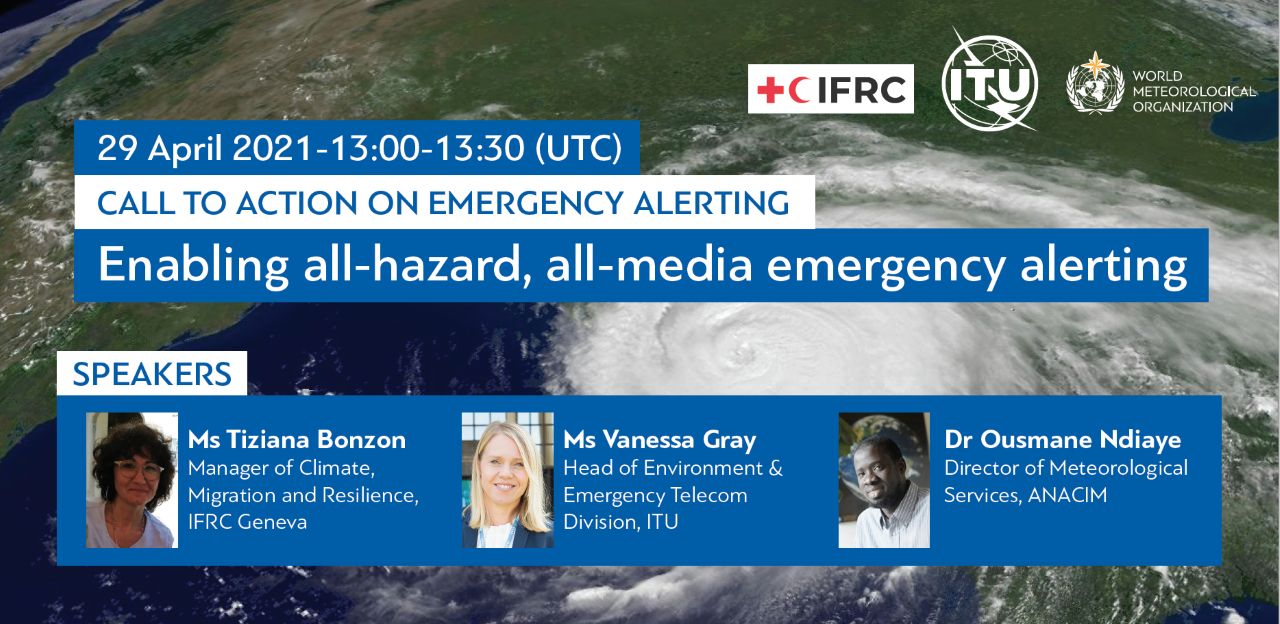 Watch the recording of the session at the Humanitarian Networking and Partnerships Weeks 2021. IFRC, ITU, and WMO jointly presented out on 'Enabling all-hazard, all-media emergency alerting' and launched the Call to Action on Emergency Alerting to strengthen the use of the Common Alerting Protocol (CAP).
Initiating Organizations that endorse the call to action
The IFRC is pleased to endorse the Call to Action on Emergency Alerting as part of its long-standing ambitions to ensure early warning messages reach 'last mile' communities. With 192 member National Societies, the IFRC network is present in hundreds of thousands of local communities, reaching more than 160 million people every year with lifesaving and life-changing support. Through the Anticipation Hub, the Risk-Informed Early Action Partnership (REAP) and by expanding the use of the Common Alerting Protocol (CAP), the IFRC is helping to ensure that communities everywhere receive the most timely and effective emergency alerting possible, and can thereby safeguard their lives and livelihoods.
ITU, the UN specialized agency for information and communications technologies, endorses this Call to Action on Emergency Alerting. ICTs are critical for disaster management and effectively alerting communities at risk to save lives and livelihoods. The Common Alerting Protocol (CAP) standard,  ITU-T Recommendation X.1303, is critical for exchanging all-hazard emergency alerts and public warnings over different networks. CAP is part of the ITU Guidelines for developing National Emergency Telecommunications Plans. ITU, composed of 193 Member States, and over 900 companies, universities, and international and regional organizations, advocates the use of CAP through collaboration, education, and sharing of expertise.
Since 2006, WMO has recognized CAP as the key standard for all-hazards, all-media public warning, and alerting from authoritative sources. WMO strongly endorses its proven record of improved effectiveness and efficiency of official alerting systems. CAP is of particular importance to WMO Members given that National Meteorological and Hydrological Services are involved in most hazard threat alerting within and among countries. Consequently, WMO Members' NMHSs have led the world in the adoption of CAP. WMO is pleased to sign this Call to Action on Emergency Alerting as part of its ongoing Global Multi-hazard Alert System (GMAS) development and its collaboration with governmental, non-governmental, and commercial organizations to achieve the broadest adoption of CAP worldwide.
* The initiating organizations are proud to have launched the call to action, however they are not responsible for the stewardship and monitoring of endorsing members' organizational activities. These are exclusively the responsibility of the respective endorsing members.
TO Join the call OR LEARN MORE ABOUT CAP, Contact us!