Piloting is an important part of the build phase, encompassing R&D, expanding tech partnerships and scaling
The GDPC continuously pilots and prototypes innovative technology solutions for preparedness and helps National Societies of the Red Cross Red Crescent and other preparedness organizations to take them to scale.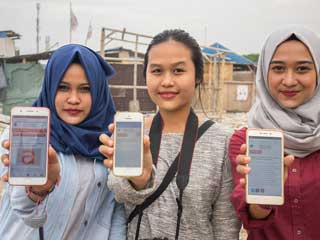 First Aid App
The First Aid App work grew out of a successful British Red Cross program that was later adapted by the American Red Cross. As an authoritative and trusted partner, the GDPC made the First Aid app relevant to a diverse user base worldwide.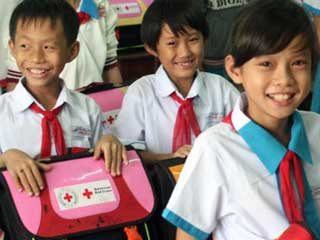 Pillowcase Project
The Pillowcase Project, a school-based disaster preparedness program first created by the American Red Cross, has taught life-saving preparedness information to more than 16,000 students through more than 130 classroom presentations.
Going forward, the GDPC will continue to develop its role of piloting new innovations via a research approach. This will involve looking at gaps in preparedness globally, determining what's working well, and bringing those initiatives to scale, in addition to inventing new products and services.
Additionally, the GDPC will continue to expand and nurture tech partnerships across the Red Cross Red Crescent network, with other humanitarian organizations, academic institutions and private partners.
– Nathan Cooper, Senior Officer, Innovation and Disaster Preparedness, GDPC
– Karin Metz, Project Management Consultant, IFRC Alert Hub
– Rebecca Scheurer, Director, Humanitarian Initiative, Adrienne Arsht – Rockefeller Foundation Resilience Center, Former GDPC Director
– Aynur Kadihasanoglu, Senior Advisor for Urban Climate Resilience, GDPC