Aprender de la inundaciones 2020 en Tabasco: Ir más allá de las infraestructuras grises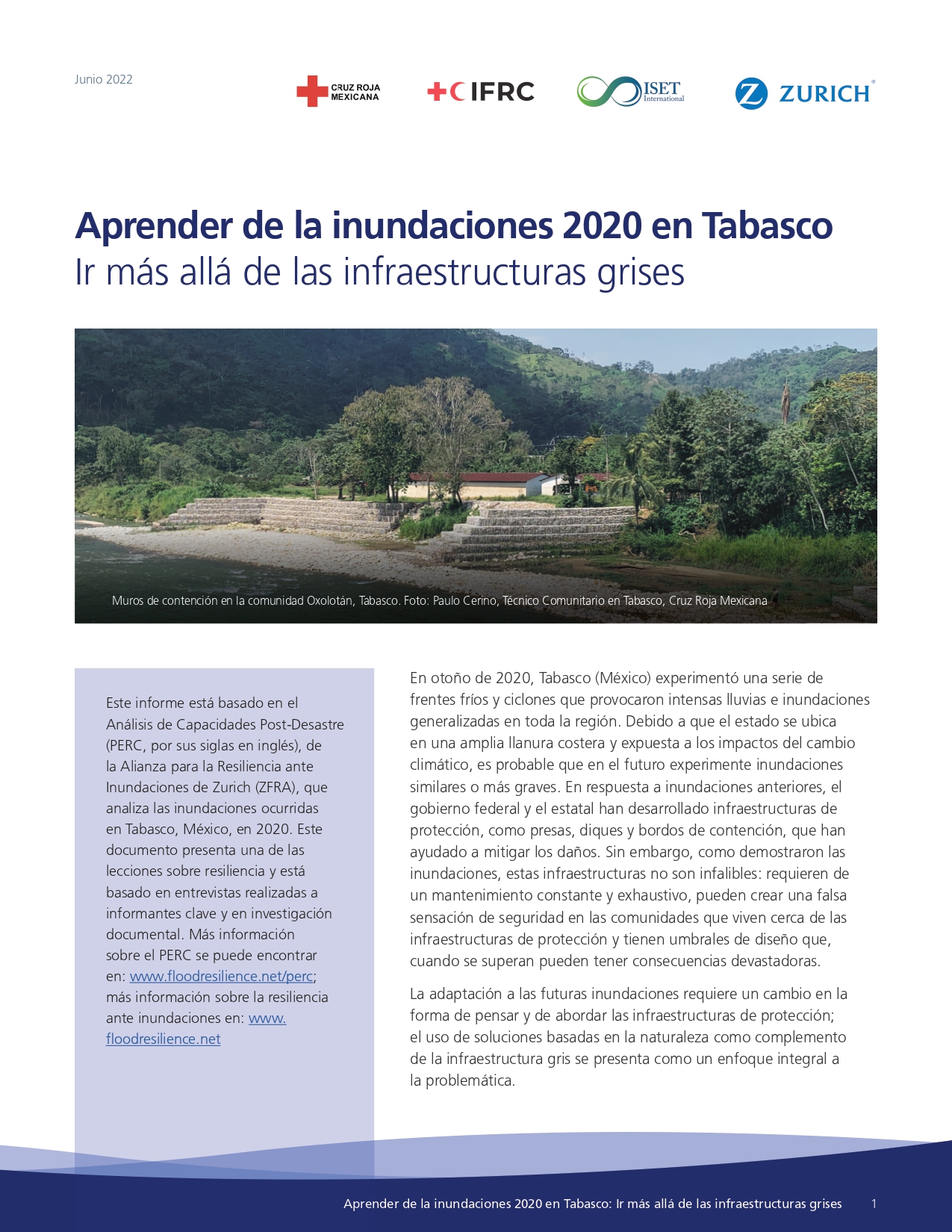 En octubre y noviembre del 2020, en México, una serie de frentes fríos y dos ciclones detonaron graves inundaciones en los estados de Chiapas, Tabasco y Veracruz. En el estado de Tabasco, durante el mes de noviembre, se registró una importante precipitación pluvial, las inundaciones, los deslizamientos de tierra y la descarga de agua de la presa "Peñitas" dejaron a la región bajo el agua. En total, las tormentas y las consiguientes inundaciones afectaron a cerca de 800,000 personas, dañando cerca de 200,400 viviendas, 2,000 km de carreteras, los sistemas de drenaje y a las principales infraestructuras urbanas e inundando miles de hectáreas de cultivos en todo el estado.
La Cruz Roja Mexicana, en colaboración con ISET, IFRC y Zurich México, realizó un Análisis de Capacidades Post-Desastre (PERC por sus siglas en inglés), que reflexiona sobre las causas de las inundaciones ocurridas en 2020 en Tabasco, México, y presenta recomendaciones que contribuyen a la gestión del riesgo. La adaptación a futuras inundaciones requiere un cambio en la forma de pensar y de abordar las infraestructuras de protección; el uso de soluciones basadas en la naturaleza como complemento de la infraestructura gris se presenta como un enfoque integral a la problemática.
Adicionalmente al Informe de política sobre capital natural, también se pueden encontrar los siguientes productos relacionados con el PERC:
You can find the full report, executive summary and policy briefs in English here.