Humanitarian Service Points Toolkit
Humanitarian Service Points Toolkit
Guidance to Support National Societies and Partners to Establish and Operate HSPs
Humanitarian Service Points (HSPs) are designed to create a safe and welcoming space for migrants to receive services at key points on migration routes.
This digital Humanitarian Service Points toolkit is designed as modules.
Each section of this toolkit contains the key things programme designers, staff, and volunteers should think about, including cross-cutting issues. 
Throughout the HSP toolkit, you will encounter the following indicators:
Use the acronyms list to get familiar with the terminology in the HSP toolkit
HSP's are an expression and fulfillment of Humanitarian Principles. Assistance at HSPs is provided based on the principle of humanity, and delivered impartially, on the basis of need alone and irrespective of migration status or other considerations. HSPs operate independently of government or other influence and demonstrate neutrality in situations where migration may be politically sensitive.
This means HSPs take no position on a migrant's presence in the country but are concerned only with the need for assistance and protection.
Why a toolkit for Humanitarian Service Points?
Migrants may have a variety of complex needs. They may struggle to access assistance or to feel safe. Support can be made even more complicated by the politicisation of migration, xenophobia, and instrumentalisation and criminalisation of assistance to migrants.
All of these risks are also affected by gender, age, ability, language, appearance, and other factors. This includes migrants' own strategies for self-protection, which may involve making themselves as invisible as possible.
In this challenging context, National Red Cross and Red Crescent Societies and partners provide a wide range of assistance and protection services to migrants based on need. They also provide a safe and welcoming space for migrants to receive these services at key points on their migration routes.
This helps fulfill core commitments of the IFRC Global Strategy on Migration, as well as support the realization of the commitments of States under the Global Compact for Safe, Orderly, and Regular Migration.
HSPs have become an important tool in helping National Societies provide this support. This toolkit provides guidance to support National Societies and partners to learn, design, build, and operate HSPs to help meet the specific needs of migrants.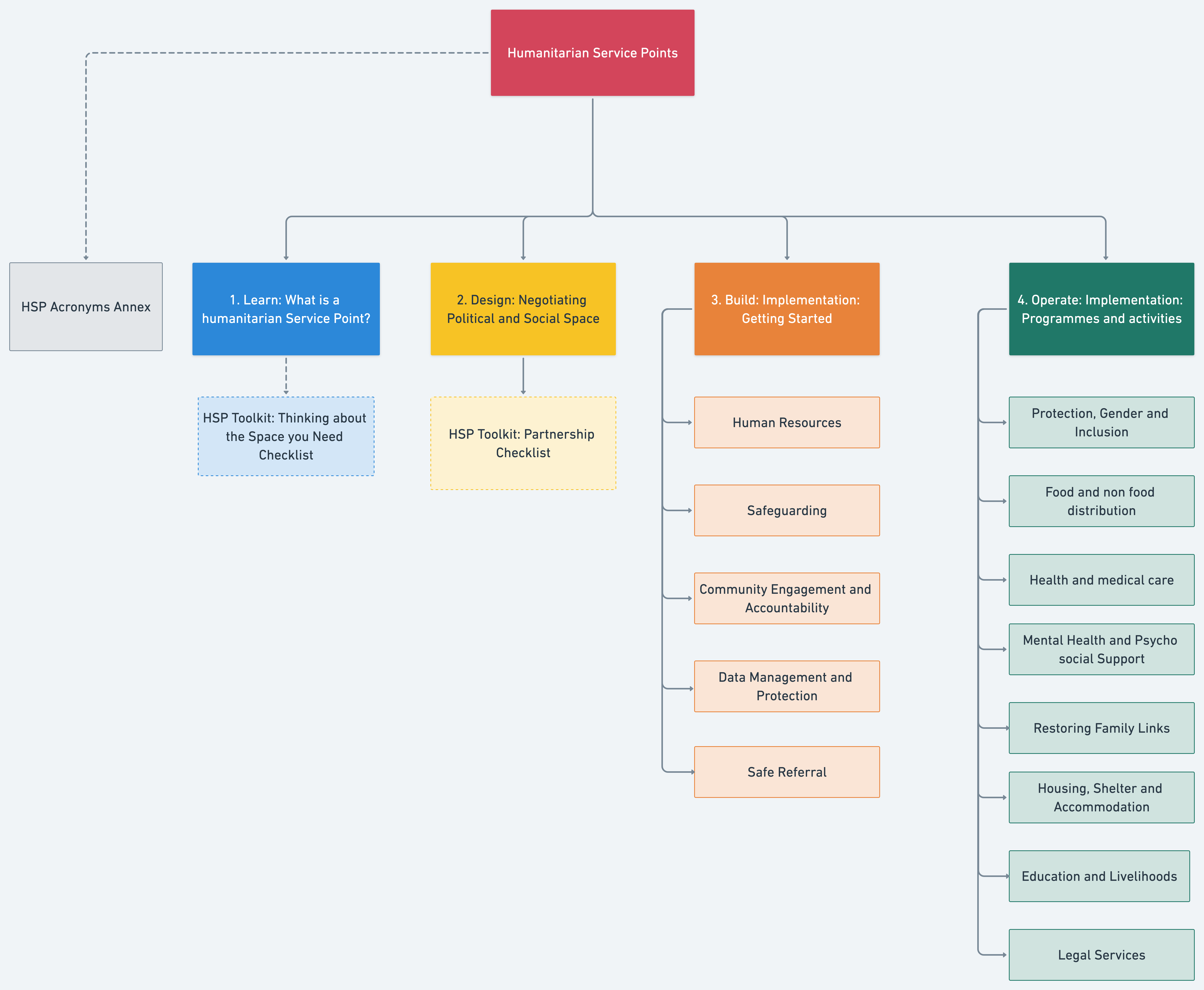 Help us improve this toolkit!
Share your feedback with the team.