Related Resources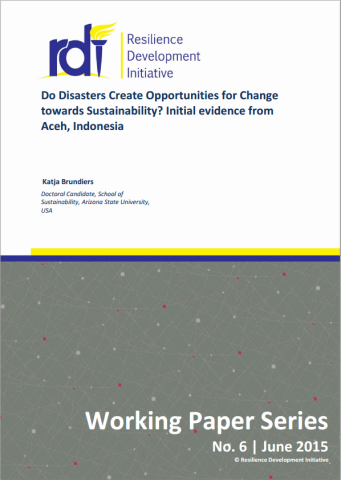 08 Mar 2016
This study looks at how people and organizations – in the midst of post-disaster devastation and loss – are able to see and seize opportunities for change towards sustainability. The post-disaster recovery process from the 2004 Indian Oce...
Tags: Case Study, Recovery, Risk Assessment
25 Nov 2014
Over the past 20 years, disasters due to natural hazards have affected 4.4 billion people, claimed 1.3 million lives and caused 2 trillion US dollars in economic losses. These disasters not only brought death and destruction, they did so disproportio...
Tags: Video, Disaster Law
07 Jun 2018
This paper analyses an integrated communitybased risk reduction model adopted by the Pakistan Red Crescent. The paper analyses the model's constructs and definitions, and provides a conceptual framework and a set of practical recommendations fo...
Tags: Research, Resilience