Inundaciones de 2020 en Tabasco: Aprender del pasado para preparar el futuro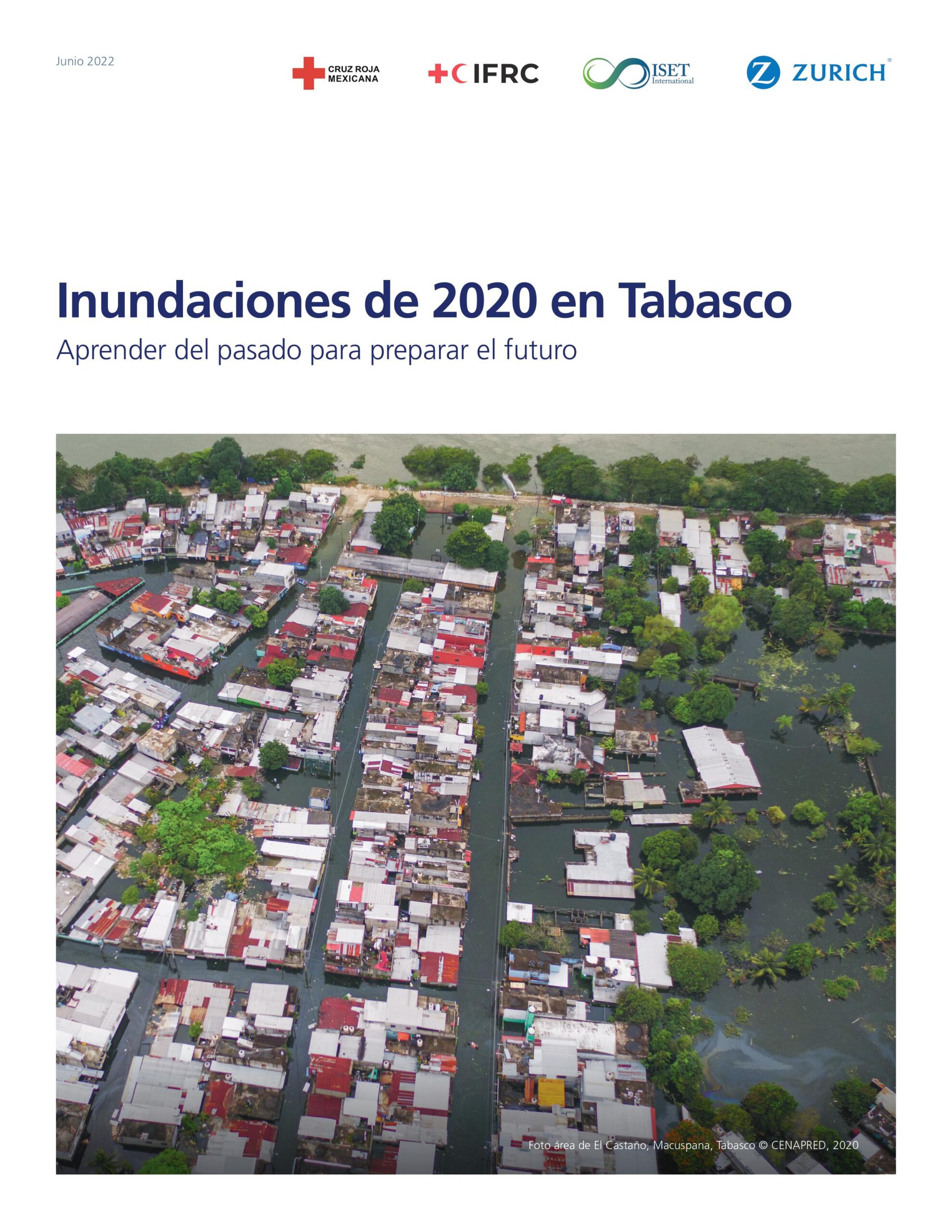 En octubre y noviembre del 2020, en México, una serie de frentes fríos y dos ciclones detonaron graves inundaciones en los estados de Chiapas, Tabasco y Veracruz. En el estado de Tabasco, durante el mes de noviembre, se registró una importante precipitación pluvial, las inundaciones, los deslizamientos de tierra y la descarga de agua de la presa "Peñitas" dejaron a la región bajo el agua. En total, las tormentas y las consiguientes inundaciones afectaron a cerca de 800,000 personas, dañando cerca de 200,400 viviendas, 2,000 km de carreteras, los sistemas de drenaje y a las principales infraestructuras urbanas e inundando miles de hectáreas de cultivos en todo el estado.
La Cruz Roja Mexicana, en colaboración con ISET, IFRC y Zurich México, realizó un Análisis de Capacidades Post-Desastre (PERC por sus siglas en inglés), que reflexiona sobre las causas de las inundaciones ocurridas en 2020 en Tabasco, México, y presenta recomendaciones que contribuyen a la gestión del riesgo. El PERC muestra cómo las principales partes interesadas del gobierno y de la sociedad civil han logrado importantes progresos en los últimos años, tanto para gestionar la respuesta inicial como para apoyar la recuperación temprana. En particular, se comparten ejemplos sobre las lecciones aprendidas en inundaciones pasadas que han fortalecido la toma de decisiones y que han logrado cambios en la reducción de los impactos de las inundaciones de 2020. Otro valioso hallazgo es demostrar cómo se puede y se debe hacer mucho más para integrar la gestión proactiva del riesgo de desastres y el aumento de resiliencia en las políticas, prácticas y presupuestos actuales.
Adicionalmente al Informe completo, también se pueden encontrar los siguientes productos relacionados con el PERC:
You can find the full report, executive summary and policy briefs in English here.