Related Resources
07 Nov 2013
Four Steps to prepare your household for people with a disability their families and carers is an information and guided activity booklet is for people living with disability, their carers and families. The booklet is all hazards in focus and aims to...
Tags: Awareness material, PAPE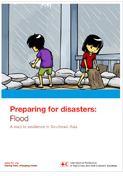 24 Mar 2015
This educational comic for children and youth focuses on flood, issued as part of a series of A Road to Resilience in Southeast Asia comics covering 7 hazards (drought, earthquake, fire, flood, hygiene promotion, tsunami, typhoon and cyclones). The p...
Tags: Awareness material
01 Apr 2015
Visit the NRRC at: http://www.un.org.np/coordinationmech…Follow the NRRC on Twitter: https://twitter.com/NepalDRRFollow the NRRC on Facebook: https://www.facebook.com/NepalDRR Nepal is prone to a variety of disasters. One of the major concer...
Tags: Video