Responding to COVID-19 In Urban Environments
National-Society-Response-to-Covid-19-in-Urban-Areas-Final
Literature-Review-Learning-on-Epidemics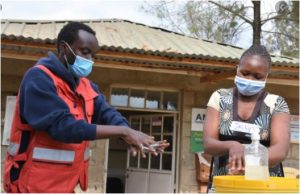 Learning from Local Responders to Guide Future Epidemic & Pandemic Responses in Urban Areas
This study on Responding to COVID-19 in Urban Environments was commissioned by the German Red Cross through funding from the German Federal Foreign Office. This report forms the final of two outputs produced for the study. The first was a literature review on Learning from Epidemic and Pandemic Disease Outbreak Response in Urban Environments. This report focuses on the second output of the study which examined the local response to COVID-19 in urban areas and draws lessons for future response.
The study used three main data collection methods. These included (i) document review (ii) a comprehensive online survey and (iii) key informant interviews. An analytical framework was used to answer the main questions for this part of the study. The questions were:
How did National Societies position themselves in the response to COVID-19 in urban settings?
What capacities did National Societies deploy in response to COVID-19 in urban settings and were these effective?
What were the gaps and opportunities that presented themselves during the response to COVID-19 in urban contexts?
What does this mean for National Societies and humanitarian organisations more broadly?
In order to answer these questions, the study explored both the strategic and programmatic positioning of National Societies and the different actors and their roles in urban environments. In addition, National Society capacities, preparedness and response to COVID-19 in urban areas were explored. The overall findings will be published soon.