The Flood Early Warning Early Action System (FEWEAS)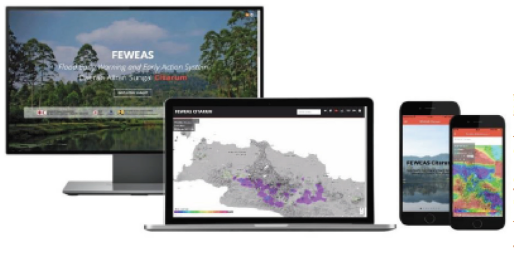 Half of Indonesia's population of approximately 141 million people lives on the island of Java, home to several river systems as the Citarum river and the Bengawan Solo. Due to changing climate and environmental conditions, these river systems are prone to flooding.
The Indonesian Red Cross (Palang Merah Indonesia, PMI), the International Federation of Red Cross and Red Crescent Societies (IFRC), Zurich Insurance, the Institute Teknologi Bandung (ITB), along with other government and non-government partners support the Community Flood Resilience programme (CFR).  As part of the programme, they developed a Flood Early Warning Action System (FEWEAS) to predict and monitor rainfall and flooding.
The Flood Resilience Alliance (2013 -2017) is a five-year partnership that set out to develop a model that would deliver effective community flood resilience programmes at scale and contribute to shaping the flood resilience agenda of policy-makers and donors.
The Flood Resilience Alliance (2013 – 2017) , First Flood Resilience Innovation Conference
https://preparecenter.org/resources/flood-resilience-alliance-2013-2017, https://media.ifrc.org/innovation/2017/02/27/what-happened-in-the-first-flood-resilience-innovation-conference/