Webinar | Translating Warnings into Actions: Improving Early Warning Systems to Protect Communities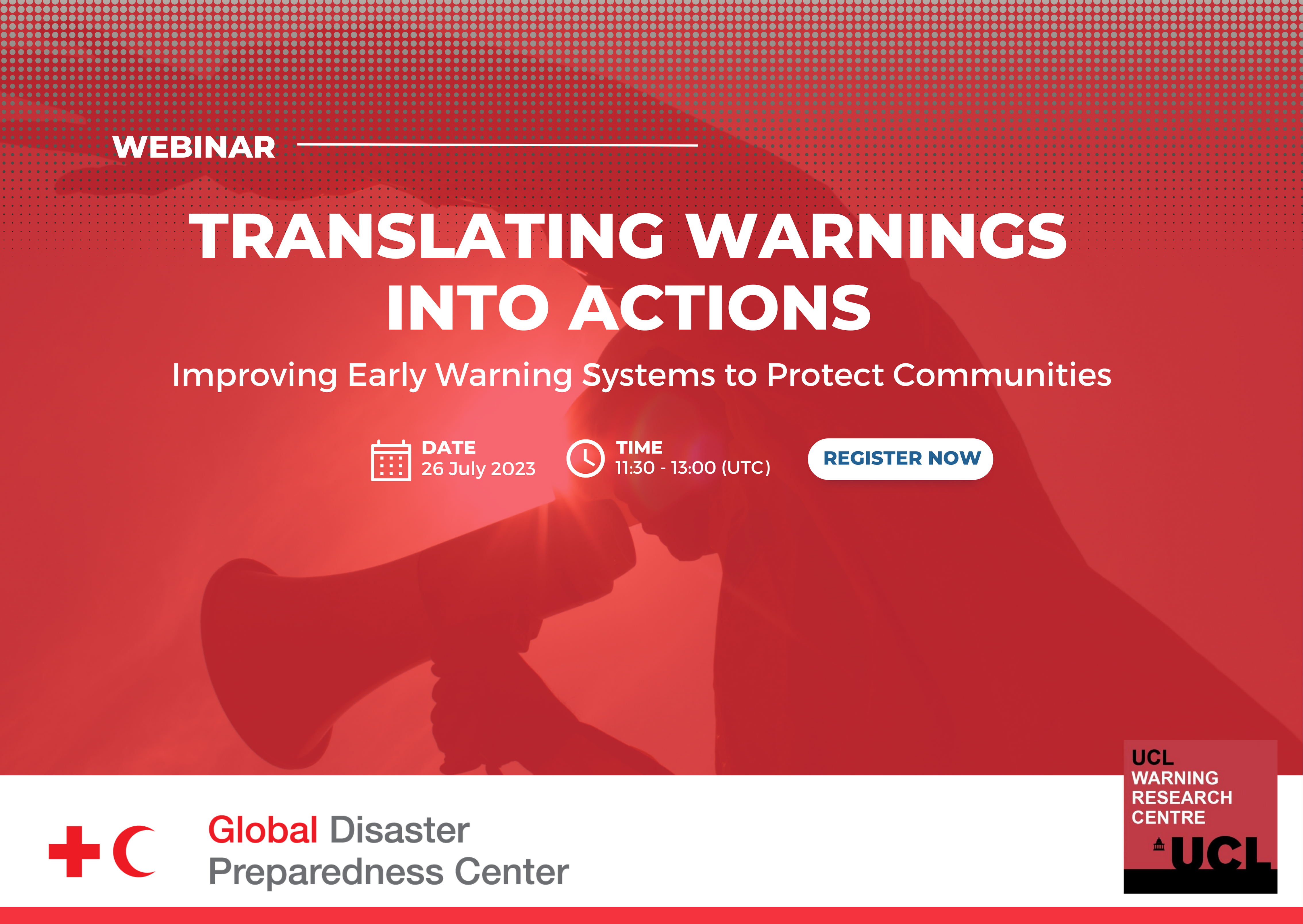 Early warning systems are essential in minimizing the impact of hazards on communities. However, issuing warnings alone is not sufficient for an effective system. The true measure of success lies in the quality of the overall response.
To address this challenge, the Global Disaster Preparedness Center (GDPC) and the Warning Research Centre (WRC) at University College London hosted this webinar to explore ways to improve early warning systems and ensure that critical information is translated into actionable measures, reaching all community members.
By bringing together disaster preparedness researchers and practitioners, the webinar delves into various aspects of effective and inclusive early warning systems. The event features the authors of a newly published report Translating Warnings into Actions: How We Can Improve Early Warning Systems to Protect Communities, as well as experts from the Red Cross Red Crescent Network to discuss their experience in the field.
Translating Warnings into Actions: Report Summary by Andrew Tupper
How Can We Enhance Inclusivity In Warnings by Carina Fearnley
Experiences from Uganda RCS on Effective Message Delivery by Emmanuel Ntale
Role of Common Alerting Protocol in early warning by Jessica Robbins
Dr. Carina Fearnley

Director,

UCL Warning Research Centre

Dr Carina Fearnley is Director and Founder of the UCL Warning Research Centre (WRC) and Associate Professor at the Department of Science and Technology Studies at University College London. Carina is an interdisciplinary researcher, drawing on relevant expertise on scientific uncertainty, risk, and complexity to focus on how hazard early warning systems can be made more effective. Carina is Co-Investigator for the EU Horizons Project 'The HuT', and has numerous UK and international policy advisory roles, and works with a number of international stakeholders including: UNDRR, GFDRR, IFRC, REAP, and CUAMM Doctors with Africa. Carina frequently appears on national and international media following significant hazard events.

Emmanuel Ntale

Manager of the Climate & Environment Unit,

Uganda Red Cross Society

Emmanuel is the Manager for the Climate & Environment unit at Uganda Red Cross Society, the Unit fosters sustainable programming and innovations in climate action including climate forecasting and early warning early action systems. He is the focal point for Anticipatory Humanitarian Action at Uganda Red Cross

Dr. Jessica Robbins

Sr. Partnerships & Innovation Lead,

Global Disaster Preparedness Center (GDPC)

Jessica Ports Robbins is the Senior Partnerships & Innovation Lead. Jessica has worked with the American Red Cross since 2001. In her role with GDPC she manages the Center's digital tools, including the Universal App Program, the WhatNow Service, and Atlas: Ready for Business preparedness app, and PrepareCenter. She holds an MS in History & Sociology of Technology & Science from Georgia Tech and a Ph.D. in international development from Tulane University.

Dr. Andrew Tupper

Principal,

Natural Hazards Consulting

Dr Tupper is a meteorologist with a focus on cross-disciplinary warning operations. His career began with the Australian Bureau of Meteorology, working in aviation forecasting, climate information, computing, and operations leadership in tropical meteorology. He then specialized in the science and operations of the International Airways Volcano Watch, the international system to keep aircraft passengers safe from volcanic clouds. During his career with the Australian Government, Dr Tupper was also the Bureau's Northern Territory Manager, the head of the National Operations Centre in Melbourne, where he was also the co-director of Australia's Joint Australian Tsunami Warning Centre, and then the Bureau's State Manager for Victoria. Dr Tupper has managed many operational tropical cyclone, flood, severe thunderstorm, volcanic eruption, tsunami, and bushfire events, as well as representing Australia in warnings policy development and science advisory roles at the UN's International Civil Aviation Organisation and World Meteorological Organisation (WMO). Since becoming an independent consultant in 2020, Dr Tupper has mainly worked in multi-hazard early warning system projects.
Translating Warnings Into Action Report
Authored by the UCL Warning Research Centre and supported by GDPC, the report titled Translating Warnings into Actions: How We Can Improve Early Warnings Systems to Protect Communities aims to assist in promoting global actions for improved early warning response. This report provides a quick tour of early warning systems and highlights numerous opportunities to improve the actions taken to save lives and protect property. Whether it involves improving communication, enhancing warning accuracy, empowering communities, or researching hazards, each of us has a part to play. The report also includes recommendations and measures to better translate warnings into actions and desired impact.
Warning Briefing Note Series
UCL Warning Research Center, supported by the Global Disaster Preparedness Center/IFRC and in collaboration with the Anticipation Hub, prepared a series of the Warning Briefing Notes that address key aspects of warnings, covering state-of-the-art, key issues, examples, resources and recommendations to aid those working on policy and practice.