Cyclone Mocha: Accurate forecasts spur preparedness in Myanmar and Bangladesh
Cyclone Mocha made landfall near Myanmar's border with Bangladesh on on May 14th as an extremely severe cyclonic storm and moved inland, weakening as it went.
Accurate national and international forecasts as much as a week in advance and local warnings helped both the National Societies to activate emergency preparedness operations.
On Tuesday, May 8th, the meteorological services of India and Bangladesh as well as the European Centre for Medium-Range Weather Forecasts and the US Global Forecasts System agreed that the storm would make landfall over the weekend, the Bangladesh Red Crescent (BDRCS) reported.
By Friday, May 12th, the National Society's forecast picture had expanded to include the US Joint Typhoon Warning Centre and the Myanmar Department of Meteorology and Hydrology. The consensus was that Mocha would make landfall around the middle of the day on Sunday, with winds between 145km and 195km an hour and a maximum storm surge of at least 3.5m.
The most intense impacts were expected around the north-west coast of Myanmar and the south-east coast of Bangladesh.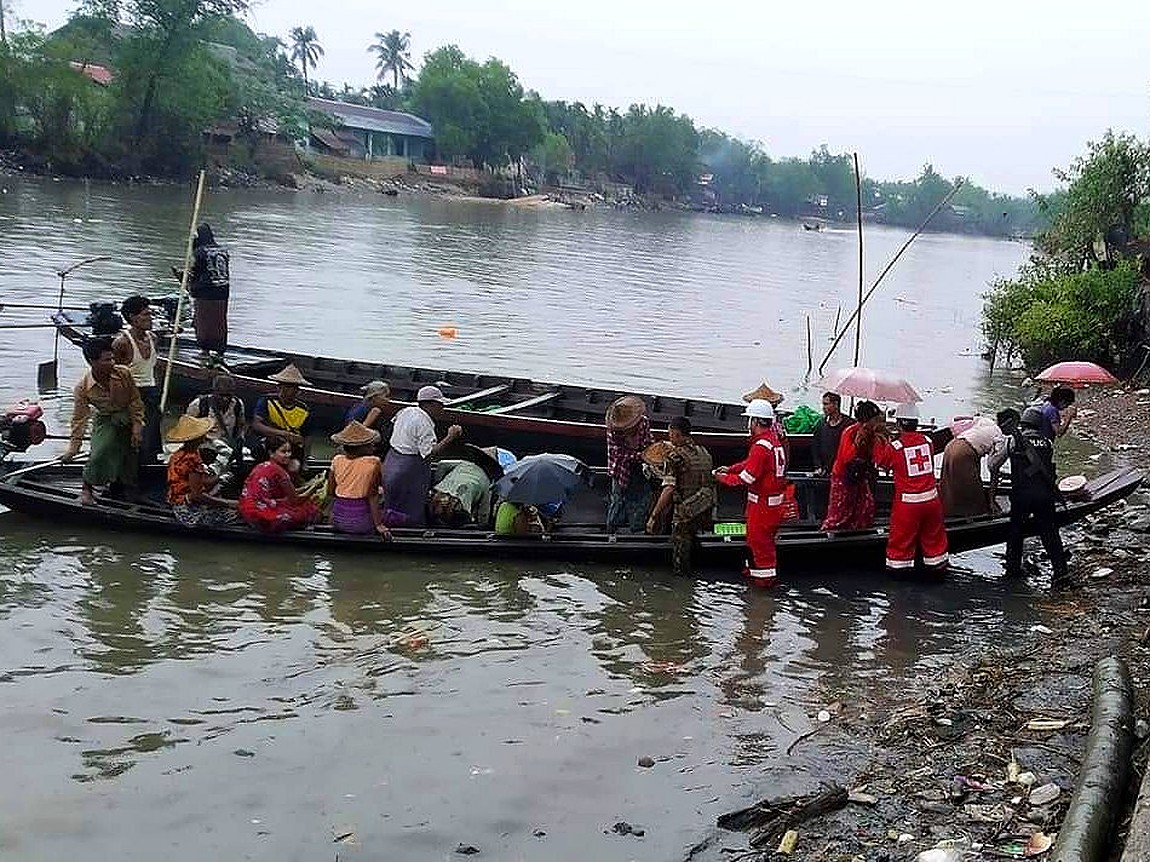 Also Friday, May 12th, the Finnish Red Cross Head of Region for Asia Pacific, Juan Daniel Reyes, tweeted that Cyclone Mocha was taking aim at some of the world's most vulnerable communities. But there, on the ground, volunteers from the BDRCS and the Myanmar Red Cross have "for days now been helping them prepare for the storm. This will save lives and livelihoods."
Nadia Khoury, IFRC Head of Delegation in Myanmar, said the Red Cross there had "mobilized resources, stocks and staff and volunteers, ready to respond.
"There will be important needs in terms of emergency housing, access to safe drinking water and hygiene, and attending to the displaced, while ensuring a protection and community engagement and accountability lens in the response," she added in an IFRC press release.
By Saturday, May 13th, she said, Myanmar Red Cross volunteers in 13 coastal Rakhine state townships had helped families evacuate to 66 temporary shelters where they were providing food and water, health care and risk awareness.
The IFRC was helping the Myanmar Red Cross scale up disaster and risk management in support of affected communities, "working closely with sister National Societies and the ICRC regarding areas of conflict."
Over 700 Red Cross volunteers in Rakhine state and Ayeyarwady region were on standby to provide immediate assistance; an average of 20 from each coastal branch were mobilized to share early warning messages, help communities prepare, and support evacuations.
As early as last Sunday, 7 May, an evacuation drill was conducted involving 3,000 people displaced from Rakhine on Bangladesh's Bhashan char (island), with Red Crescent volunteers demonstrating "scenario-based action considering the cyclonic context," the BDRCS said.
Among many other preparedness measures, the Bangladesh Red Crescent reported that it had 176 National Disaster Response Team and 150 National Disaster WASH Response Team members on standby for immediate response.
BDRCS Secretary General Kazi Shofiqul Azam said Friday the National Society was "working tirelessly to ensure the safety and well-being of those in Cox's Bazar, the camps, and Saint Martin [island, 10km off the mainland coast].
"With over 4,500 active volunteers trained in emergency response, and 76,000 Cyclone Preparedness Programme volunteers, we are well-prepared to respond before, during, and after the cyclone."
Mocha came ashore yesterday just north of Sittwe, the Rakhine state capital, and nearly 150km south of Cox's Bazar, as forecast.