Hot off the press: Heatwave FbF Feasibility Study in Dhaka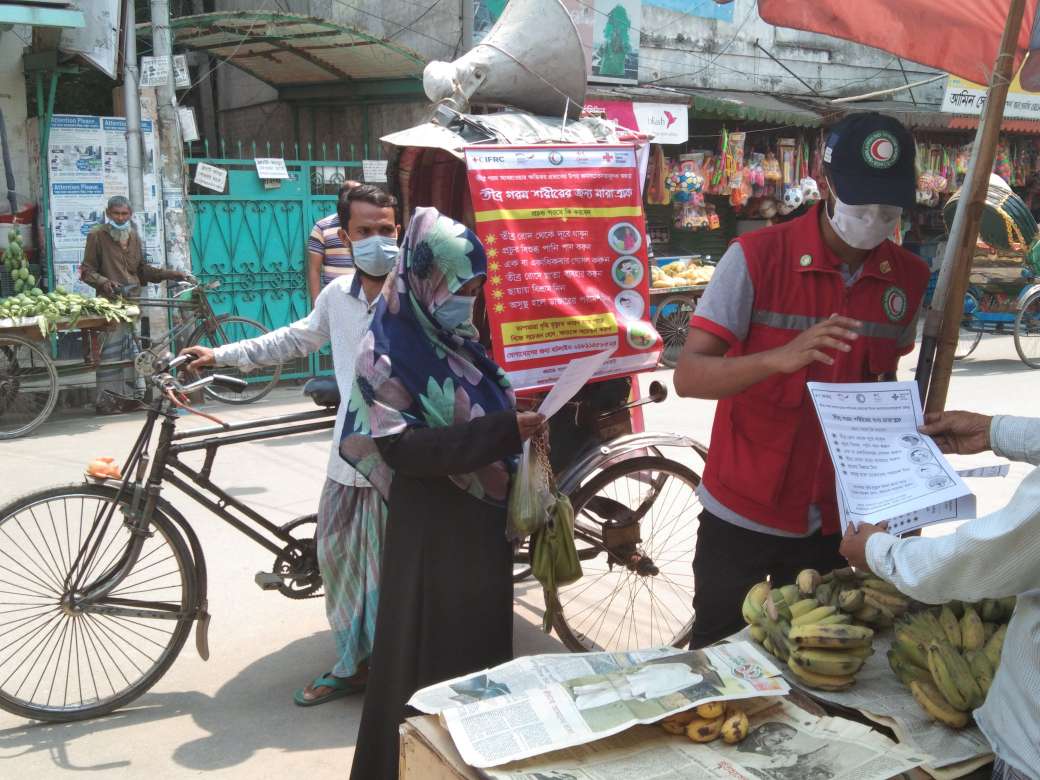 July 2021 was the world's hottest month ever, while Asia recorded its warmest July ever. As the global temperature is on rise, heatwaves are becoming hotter, longer, and more frequent. Bangladesh is one of the countries most vulnerable to global warming and climate change. Cities in Bangladesh, including Dhaka are witnessing warmer summers and increasing numbers of extreme hot days in recent years.
In anticipation of more extreme heat events to come, German Red Cross (GRC), Bangladesh Red Crescent Society (BDRCS), Red Cross Red Crescent Climate Centre (RCCC) together with Bangladesh Meteorological Department (BMD) conducted a heatwave feasibility study to pilot heatwave early action in Dhaka, Bangladesh.
In March 2021, the study findings, specifically triggers, thresholds and early actions were validated through two rounds of consultations with different stakeholders. The study revealed that the people working outdoors, such as van/rickshaw pullers, street vendors, construction workers, pedestrians are most exposed to heatwaves. People living in the informal settlements with poor housing and low income bear the brunt of the impacts. The elderly, infant, young children, people with underlying health conditions, and pregnant women are disproportionately impacted by the extreme heat. Amidst Covid-19 pandemic and nationwide strict lockdown, a simulation was conducted from 24 April to 3 May 2021 to test the triggers, thresholds, and early actions for heatwaves.
A post distribution monitoring (PDM) was commissioned and the findings from the PDM revealed the multi-purpose cash grant (BDT 4500, around 45 EUR) and awareness generation activities during the simulation have been enormously helpful and effective to the recipients. Currently, the team is working to develop an Early Action Protocol for heatwaves in Dhaka.
The Heatwave Feasibility report was officially published on September 09, 2021.
You may find the report here: https://www.anticipation-hub.org/Documents/Feasibility_Study/Feasibility_Study_on_Heatwave_in_Dhaka.pdf
Read more on Bangladesh Red Crescent's heatwave work on the Anticipation Hub here: https://www.anticipation-hub.org/news/the-story-of-heatwave-anticipatory-action-in-dhaka-bangladesh
The above post has been written by Khairul Sheikh, GRC Forecast-based Financing Delegate in Bangladesh