Innovating for Inclusion: RCRC National Societies' Solutions to Improve Early Warnings
Early warning is a crucial element of disaster preparedness that saves lives and mitigate disaster impact. But some community members and entire communities are often out of early warning efforts – due to communication barriers, low literacy, social and cultural stigma, tech disparities, or many other factors.
To promote innovative solutions within the Red Cross Red Crescent Network, the Global Disaster Preparedness Center (GDPC) supported an Inclusive Early Warning Early Action challenge at the IFRC Global Innovation Summit 2023. This challenge aimed to learn how Red Cross Red Crescent National Societies are working to make early warning systems  accessible for everyone and identify impactful solutions.
Among many submissions, we chose three winners who are implementing new approaches in their societies to ensure early warning for all. Let's explore their stories and the solutions they're using to make sure no one is left behind when it comes to early warnings.
Putting People First: Transfroming Early Warning Systems in Nepal
Tamas Marki, Danish Red Cross and Nepal Red Cross
In Nepal, the Danish Red Cross and Nepal Red Cross Society are working together to improve early warning systems by prioritizing protection, gender, and inclusion. A survey conducted in 2021 revealed that 30% of households were missing critical alerts due to various barriers, including language barriers, illiteracy, limited mobile access, and poor communication channels. This disproportionally affected vulnerable groups such as senior citizens, persons with disabilities, woman-headed households, and those primarily speaking their native languages.
To ensure that crucial life-saving information reaches everyone, the Danish Red Cross and Nepal Red Cross Society have adopted innovative approaches, focusing on creating community-owned communication channels. These channels were developed through a participatory approach that involved community members as key participants.
Influential community figures, such as village chiefs, social workers, and female health workers, were recruited to deliver early warning messages. Additionally, community structures, including women's groups, groups for persons with disabilities, and child clubs, were leveraged to ensure comprehensive coverage. Various methods like SMS, radio broadcasts, and visual alerts are used to ensure everyone gets the message. Complex forecasts are simplified, and local languages are used to help everyone understand.
These efforts have greatly improved the inclusivity of early warnings, ensuring that messages are received and understood by the most vulnerable populations at risk. A recent survey showed that 90% of the most vulnerable groups now receive early warning messages through multiple channels, which enables them to safeguard their lives and livelihoods.
Watch the video above to learn more about their work.
"Ñuka Ushani" – A project to be prepared from a potential volcanic eruption
Tiffany Bonilla, Ecuadorian Red Cross
Tiffany Bonilla, a volunteer with the Ecuadorian Red Cross, is working to keep communities safe near the dangerous Cotopaxi volcano. Her project, "Ñuki Ushani" (meaning "I know how to act" in Quechua), combines recycling, training, and digital technology to equip community members with accessible and low-cost solutions to prepare for a potential volcanic eruption.
Tiffany's initiative aims to include everyone in the community, regardless of age, gender, religion, or language, leaving no one behind. While initially focused on the San Buenaventura community, the project's ultimate ambition is to cover the entire Cotopaxi province, one of the most vulnerable regions.
Ñuki Ushani comprises ten steps to equip the urban parish of San Buenaventura with the knowledge and resources needed to respond effectively to a Cotopaxi volcanic eruption. These phases encompass a wide range of disaster preparedness activities, from educating and raising risk awareness to installing early warning sirens and innovative ash collectors for monitoring volcanic activity.
Tiffany believes that the ash collectors are the project's key innovation. "They are made by volunteers from recycled materials, such as plastic bottles," she explains. "These ash detectors will be strategically placed throughout the community, and any detected ash residues will be sent to the Geophysical Institute of the EPN for analysis."
Digital technology also plays a key role in Ñuki Ushani. One crucial step involves creating a WhatsApp group for community members to share information and tips on preparedness and safety measures.
Tiffany emphasizes the importance of having an informed community. "As a Red Cross volunteer, it's crucial to understand the specific needs and risks within the community," Tiffany says. "Empathy is another essential aspect. We need to connect with the community, bridging the gap between the Red Cross and the local residents. By working together as one team, we gain insight into their daily lives and can better anticipate their actions during a crisis."
To learn more about Tiffany Bonilla's inspiring work and her project, "Ñuki Ushani," watch the video above.
Early warning system for disease detection and prevention in Kenya
Kipyego Hazael, Kenya Red Cross Society
In the world of global health, early detection of diseases is crucial. Unfortunately, many outbreaks often go unnoticed until it's too late, resulting in devastating consequences for communities and regions.
To address this issue, the Kenya Red Cross Society has designed an Early Warning Early Actions (EWEA) system that enables rapid identification, tracking, and response to potential diseases of public health significance. The system empowers individuals to take control of their health and the health of their communities through trained community health workers.
"We want to achieve early detection of emerging diseases and generate data that will form the basis of informed decision-making for implementing forecast-based actions in epidemics," explains Kipyego Hazael, a community-based surveillance data officer at the Kenya Red Cross Society.
Using real-time data, the EWEA system can detect potential outbreaks before they spread, alerting health officials and community leaders to take swift action. The Kenya Red Cross has developed a unique tool that leverages USSD (Unstructured Supplementary Service Data), a Global System for Mobile Communications (GSM) protocol for sending text messages. This tool allows trained community health workers to report diseases to public health authorities and veterinary officials. Then, the qualified authorities initiate necessary risk assessments and verifications to expedite a response.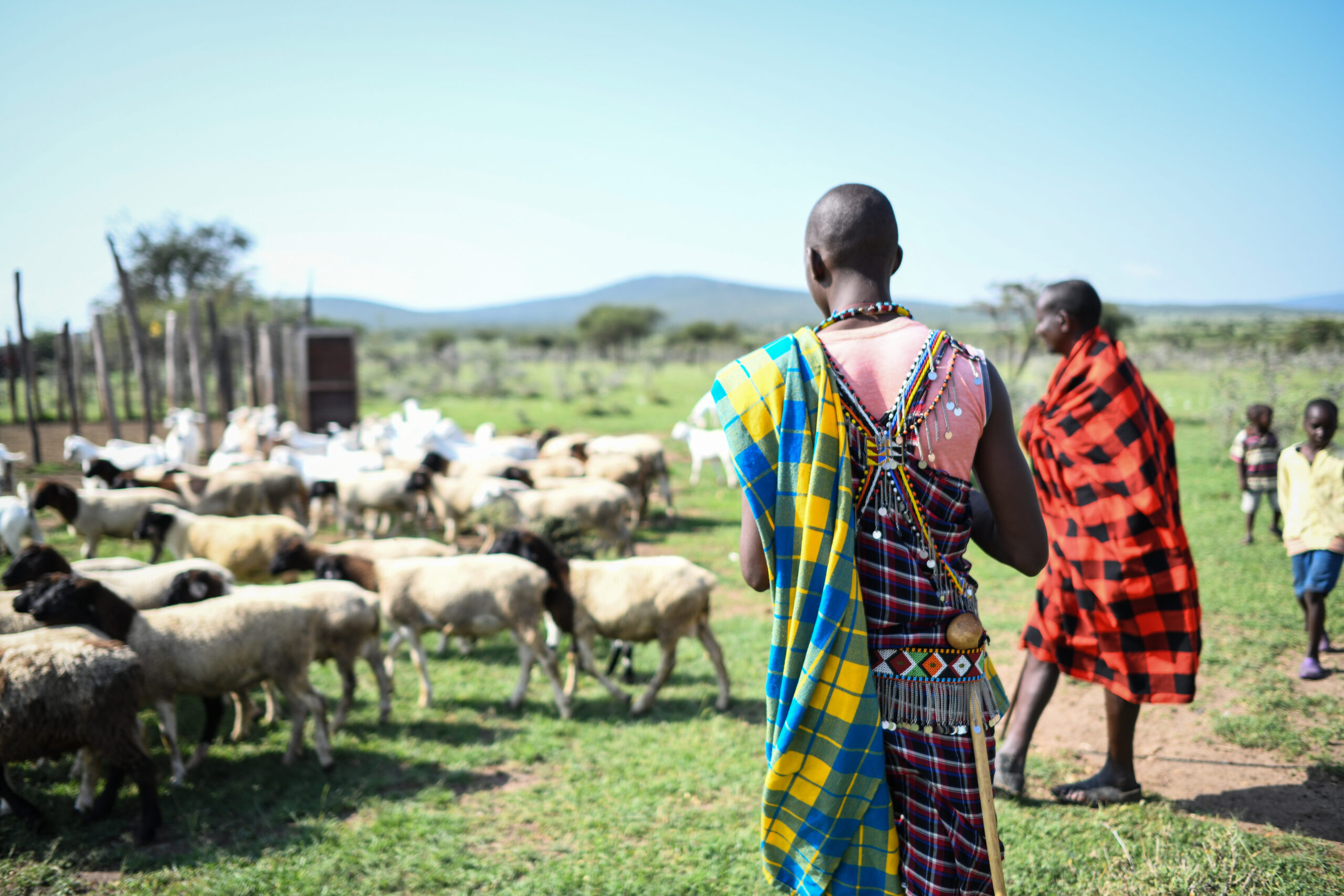 What sets this project apart is its commitment to the One Health approach, recognizing the interconnectedness of human, animal, and environmental health. This holistic perspective strengthens relevant departments in addressing emerging and re-emerging diseases that have global security implications.
Thanks to this approach, over 1000 diseases have been detected early and escalated to public health authorities. Equally important, the data generated through these initiatives has been instrumental in developing advocacy and communication plans to enhance preparedness actions in multiple counties where the project is implemented.
The impact of the EWEA system extends beyond early detection and response. The project has also mobilized efforts to control vaccine-preventable diseases and recruit human resources to support community preparedness activities. This shows the project's broader impact on community health and safety.
"The most significant learning of this initiative for early warning early action is enabling communities to be able to identify, detect, and report diseases to public health authorities," Kipyego says. "The One Health approach should be embraced at the community level, fostering a holistic approach to disease prevention, detection, and response. This ensures the safety of our communities and a safer world for all."
Watch the video above to learn more about the Kenya Red Cross approach to disease surveillance and early warning.
View and support all shortlisted video submissions below