Nepal's Municipal Disaster Risk Governance Assessment Tool: a case study on strengthening disaster risk management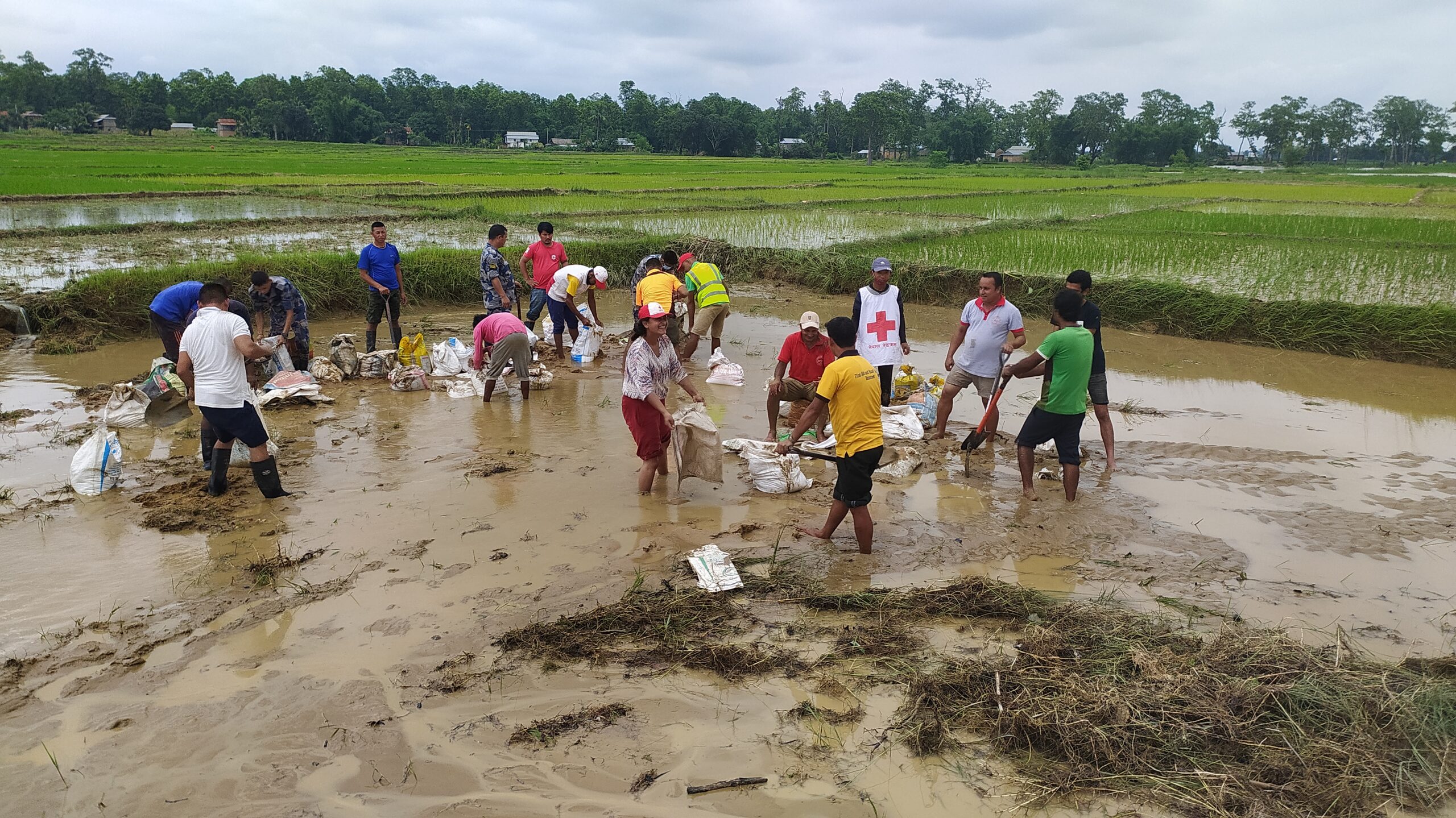 Nepal Red Cross Society volunteers and local people strengthen a breached embankment to prevent floodwater from entering their settlement. Photo by Nepal Red Cross Society
Following Nepal's move to a federal governance structure municipal governments have greater responsibility for disaster risk reduction and management. This blog looks at how a Municipal Disaster Risk Governance Assessment Tool has been developed by the Red Cross and partners to better ensure and enhance the ability of local governments in Nepal to meet this responsibility.
Long history of Red Cross disaster law work in Nepal
Since 2008 Nepal Red Cross has been working alongside the Government of Nepal to evaluate and strengthen laws and regulations for Disaster Risk Management (DRM) at the national level. For example, Nepal Red Cross was instrumental in supporting the government to pass the National Disaster Risk Reduction and Management Act of 2017.
The Nepal Red Cross Society also co-chairs the Community-Based Disaster Risk Management (CBDRM) platform together with the Ministry of Federal Affairs and General Administration (MoFAGA). The platform is the main mechanism for inclusive multi-stakeholder coordination of DRM in Nepal and co-creation of policies.
In 2018 the Nepal Red Cross team, supported by the International Federation of Red Cross and Red Crescent Societies and the Zurich Flood Resilience Alliance, shifted its policy and advocacy efforts from the national to the municipal level where a need for our expertise emerged following Nepal's constitutional and governance reform.
Nepal's constitutional and governance reforms create need for enhanced local disaster risk governance capacities
The 2015 constitutional and governance reforms moved Nepal from a unitary to a federal state, resulting in the formation of 753 municipalities across seven new provinces. As a consequence, the country's legal frameworks for climate and disaster risk management (DRM) and institutional arrangements had to be adjusted.
One of the challenges was how to, systematically and coherently, devolve responsibility for local DRM to the 753 municipalities as most lacked the resources, knowledge, and guidance on how to meet their new responsibilities.
Before [the federal structure] Village Development Committees had a poor performance, but decentralisation of power has resulted in municipalities managing small disaster situation themselves.

– Government of Nepal Representative
Finding a solution: Red Cross partnering with the Government of Nepal
Contributing the IFRC's global expertise on disaster law as well as Nepal Red Cross' community presence across the country, our team partnered with the Nepal government to assess and understand what municipalities needed in order to design and implement a cohesive DRM policy in line with national legislative obligations.
Initial dialogue with municipal authorities, CBDRM partners and communities, made it evident that municipalities' varying capacities, resources, and challenges needed thorough analysis to ensure that each would be able to meet its new responsibilities.
In consultation with stakeholders including Alliance partners Mercy Corps and Practical Action, we decided to adapt and contextualize the IFRC'S disaster law tools for use at the municipal level. The adapted version was named the Municipal Disaster Risk Governance Assessment Tool.
Co-creating a functional Municipal Disaster Risk Governance Assessment Tool
The first draft of the tool was presented to members of the CBDRM platform in 2019. Through the CBDRM platform, Nepal Red Cross and MoFAGA have facilitated feedback from government ministries, UN agencies, and international and local NGOs into the development of the tool to ensure it was as simple, user-friendly and context suited as possible.
This engagement has been critical, as these agencies will play key roles in supporting municipalities across all of Nepal to implement changes identified by the Municipal Disaster Risk Governance Assessment Tool over years to come.
Once feedback was incorporated, the draft tool was ready in late 2019. 10 municipalities were identified to pilot the tool in early 2020 with the support of Alliance partners. However, plans were interrupted by Covid-19.
Instead in 2021 the pilots and rollout of the tool were adapted to an online format. Thus, Nepal Red Cross began training provincial and municipal government officials, Red Cross staff and non-government partners virtually.
These lead trainers in turn started guiding municipal staff and Disater Risk Reduction (DRR) focal persons in the pilot municipalities on how to use the tool to inform their new disaster management and climate change policies and plans.
To date, three municipalities, with a total population of about 500,000 people, have piloted the Municipal Disaster Risk Governance Assessment Tool, and plan to use the tool to strengthen their local laws and plans for risk management.
Looking ahead: country-wide rollout and international scale-up
Until the end of 2023, we will support all municipalities in the pilot to use the insights from the tool to develop their municipal DRM Plans, and to better integrate DRR in them. In doing so, we will accompany and enable them to develop the necessary skillset and capacities to effectively oversee the plan and its implementation. As a result, MoFAGA expects to see an increase in DRM measures in municipal budgets and plans over the coming years, as spending and action is further localized.
MoFAGA is confident that, with the Municipal Disaster Risk Governance Assessment Tool and the support of agencies like the Red Cross, all 753 municipalities will have DRM integrated into their local plans by 2025. The tool is expected to be a catalyst for stronger governance at the local level and to result in improvements of disaster and climate resilience policy and action across the country.
The Municipal Disaster Risk Governance Assessment Tool is very useful to understand the current resources and need of resources, gaps and challenges in disaster risk reduction/management in the municipality. These indicators [in the tool] will be considered during planning, budgeting, and policymaking.

– Senior Municipal Government Staff from Barbardiya Municipality
Nepal is one of the first countries to localize' and adapt the IFRC's national-level Disaster Law tools to guide local law and policymaking efforts. These experiences and reflections will inform a new global IFRC Disaster Law initiative to research and provide guidance on urban and subnational climate-smart DRM laws starting in 2022. Thereby, other countries and local leaders can learn from the experiences and practice in Nepal.
This blog was written by Jonathan Ulrich and originally published on the Flood Resilience Portal of the Zurich Flood Resilience Alliance. Please find the original story here. For more detailed information read the full case study Strengthening Local Risk Governance in Nepal. If you want to learn more about the IFRC's Disaster Law work, check out our website.