Tanah: The Tsunami and Earthquake Fighter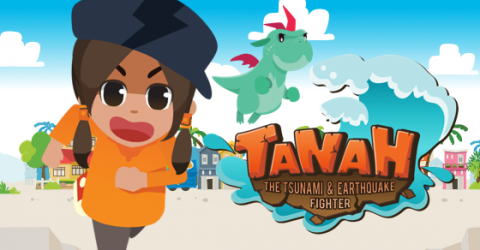 Tanah: The Tsunami and Earthquake Fighter 
A Mobile App Helping Kids Be Prepared!
'Tanah: The Tsunami and Earthquake Fighter' is a disaster preparedness educational mobile app designed for kids and families. The game follows heroine Tanah as she learns to prepare and protect herself from tsunamis and earthquakes. Through helping Tanah navigate fun and interactive challenges, users enhance their hazard awareness while learning key concepts of disaster risk reduction.
With the number of natural disasters significantly increasing in the Asia and Pacific region, there is a need for preparedness initiatives to increase awareness and readiness in an innovative way.  Following the success of 'Sai Fah: The Flood Fighter' developed by UNESCO Bangkok, 'Tanah: The Tsunami and Earthquake Fighter' offers an engaging and dynamic platform for users to learn survival lessons.
'Tanah' is a collaboration between the Global Disaster Preparedness Center (GDPC), UNESCO-Bangkok, and USAID with support from Indonisan Red Cross (PMI) and Asean Coordinating Center for Humanitarian Assistance on Disaster Management (AHA Center).  The game is developed by Thai-based software company Opendream.
This free app was released on December 1, 2015 and is available in English, Bahasa Indonesian and Thai in both the Google Play and iTunes stores.
Download today from the links below and share with your friends and family!
Click on the video below for a preview!