The Blue Guide To Coastal Resilience, Protecting Coastal Communities Through Nature-based Solutions
On February 2, 2021, the Nature Conservancy published The Blue Guide to Coastal Resilience that provides Disaster Risk Reduction (DRR) planners a step-by-step approach to integrating Nature-based Solutions (NbS) into DRR planning, specifically in coastal areas. 
-NbS are actions to protect, sustainably manage, and restore natural or modified ecosystems that address societal challenges, such as climate change, while providing human well-being, such as jobs and food security.
This may include sustainably managing ecosystems, such as mangroves and reefs to reduce the impacts of climate disasters while allowing people to benefit from fishing and food security from these ecosystems.
For DRR practitioners, this guide is a formidable resource to bring calls for more transformational changes to life. In the face of growing climate change impact, the International Federation of Red Cross and Red Crescent Societies (IFRC) argued that the first priority must be the long-term reduction of vulnerability and exposure (IFRC 2019:23). Integrating nature-based solutions can help achieve both.
The Blue Guide provides eight steps for DRR practitioners to follow to integrate NbS into DRR planning. The steps include participatory tools to support decision-making requiring planners to work closely with local stakeholders as well as case studies to illustrate how NbS can be included in DRR planning. Each step is broken down into several steps.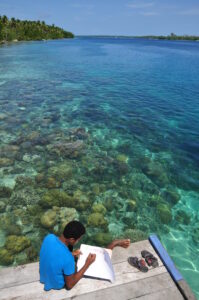 See below a summary of the Eight steps:
Learn how to form an idea and come up with a rough sketch.
Step 1.1 Ask. What is the problem?
Step 1.2 Brainstorm. What is the context?
Step 1.3 Form ideas. What could be done?
Step 1.4 Scope. Who may be partners?
Learn how to approach, convince and engage the key stakeholders.
Step 2.1 Consult government agencies
Step 2.2 Initiate community engagement
Step 2.3 Map and engage stakeholders
Step 2.4 Explore technical support
Step 2.5 Form a steering committee
Learn how to assess community risk, ecosystems, the external context, and how to set your objectives.
Step 3.1 Assess community risk
Step 3.2 Assess ecosystems
Step 3.3 Assess the external context
Step 3.4 Define your high-level objectives
Learn how to identify the most effective options for your context.
Step 4.1 Confirm & clarify objectives
Step 4.2 Explore feasible measures
Step 4.3 Screen for suitability
Step 4.4 Develop options
Step 4.5 Develop scenarios
Step 4.6 Estimate benefits and costs
Step 4.7 Compare options
Step 4.8 Check for sustainability
Step 4.9 Decide on and refine your solution
Learn how to set your project on track through a concise plan.
Step 5.1 Build your log frame
Step 5.2 Build your work plan
Step 5.3 Develop your budget
Step 5.4 Secure funding
Step 5.5 Search for long-term support
Learn how to remain agile to keep implementation effective & efficient.
Pri

nciple 1 | Invest in your team.
Principle 2 | Monitor to manage.
Principle 3 | Use tangibles as mobilizers.
Principle 4 | Build & maintain trust.
Principle 5 | Nurture stewardship & cohesion.
Principle 6 | Ensure high technical quality.
Principle 7 | Adapt to remain agile.
Learn how to reflect and adjust in order to maximize impact.
Step 7.1 Systematically analyze outcomes
Step 7.2 Conduct post-hazard reviews
Step 7.3 Learn & adjust to maximize the impact
Learn how to best inspire others to adopt nature-based solutions
Step 8.1 Document your experience well
Step 8.2 Share openly and widely
Step 8.3 Advocate for & support replication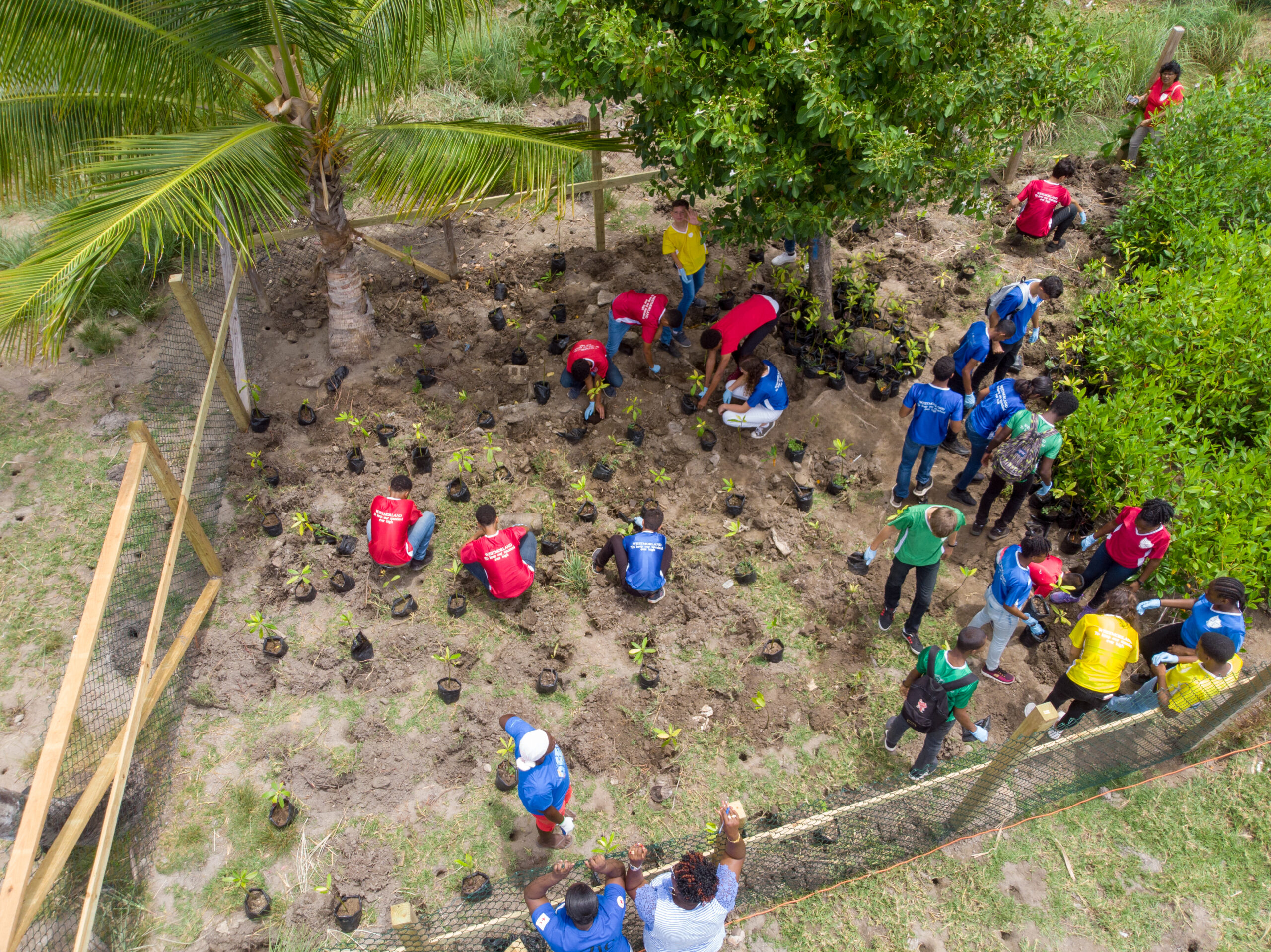 Why is it important to use nature-based solutions to reduce the impacts of disasters?
APDRC is focusing on enhancing DRR and Resilience Capacity of the Red Cross and Red Crescent societies in the Aisa Pacific Region. The IFRC defined that the resilience society has essentials of economic opportunity, social cohesion, well-maintained and accessible infrastructure, knowledge, and ability to manage natural assets. The nature-based solution is the appropriate methodology to develop society socially and economically without harm to nature itself in building up society's ability to manage its natural assets.
HanGoo LEE, Coordinator, APDRC (Asia Pacific Disaster Resilience Center affiliated to the Korean Red Cross)
What is the best part about the Blue Guide and how was it useful for you to integrate nature-based solutions into your work?
From the perspective of the practitioner, the solution finder is really helpful to reduce a lot of work but maintaining the quality of the proposal/plan. It can be utilized as a critical weapon to convince other stakeholders including potential donors.
HanGoo LEE, Coordinator, APDRC (Asia Pacific Disaster Resilience Center affiliated to the Korean Red Cross)
Why is it important for DRR practitioners in Red Cross and Red Crescent Societies to use the Blue Guide?
The blue guide is specifically focusing on the coastal area so it may be important to the DRR practitioners in NSs which have coastal areas. This Bule Guide will make a definite synergy when it is combined with other IFRC guidelines and tools such as E-VCA, and R2R guidelines. Especially, significantly contributing to overcome the challenge of environmental and climate crisis while seeking sustainable development for alleviating human sufferings. 
HanGoo LEE, Coordinator, APDRC (Asia Pacific Disaster Resilience Center affiliated to the Korean Red Cross)