Global Platform for Disaster Risk Reduction 2019
The Global Platform for Disaster Risk Reduction (GPDRR) is a biennial multi-stakeholder forum established by the UN General Assembly to review progress, share knowledge and discuss the latest developments and trends in reducing disaster risk. It is a critical component of the monitoring and implementation process of the Sendai Framework for Disaster Risk Reduction (2015-2030).
In 2019, the main theme was: "Resilience Dividend: Towards Sustainable and Inclusive Societies." This sixth session was convened and organized by the UN Office for Disaster Risk Reduction (UNISDR) and hosted by the Government of Switzerland. More information and background to the GPDRR 2019 can be found here.
Red Cross Red Crescent coordinated approach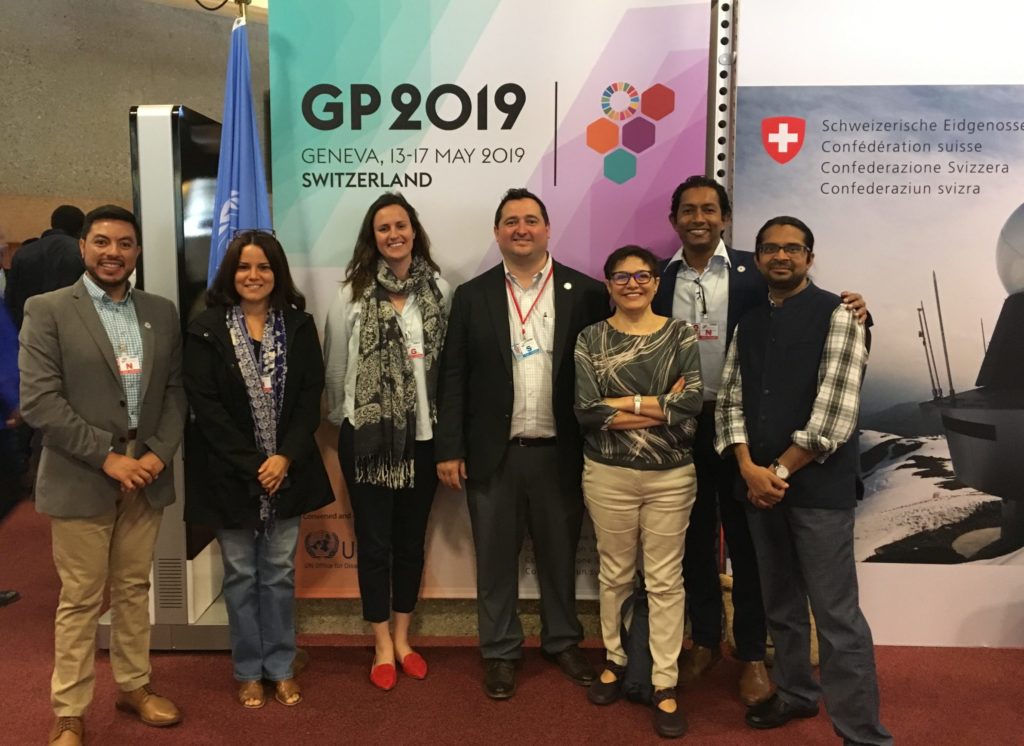 The IFRC Disaster and Crisis unit and the Global Disaster Preparedness Center / American Red Cross implemented key actions to share disaster risk reduction initiatives from the Red Cross Red Crescent Movement and local communities:
Leaving No-One Behind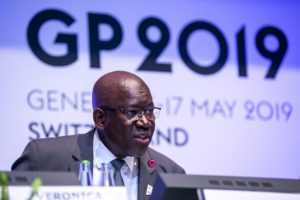 El-Haj As Sy, IFRC Secretary-General,  was the opening speaker on the High-level Panel on leaving no-one behind. "We must start recognizing where they live, their identity, what are their needs, identify the best way to reach out to the most vulnerable,"  remarked the Secretary-General to ensure inclusive DRR. Check out more on the key messages and advocacy video presented.  
Ignite sessions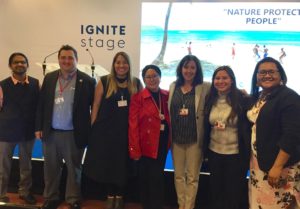 As part of the strategy of "Bringing Community Voices to the GPDRR 2019," the IFRC and Red Cross Red Crescent National Societies presented disaster risk reduction practices in person or online. In total, seven ignite presentations were presented on the following topics. 
Community voices: the use of games for raising climate and gender awareness in Kenya. Video 
Disaster Preparedness in camp settlements and host communities in Cox's Bazar Bangladesh. Video 
Nature protects people. Working with communities on nature-based risk reduction solutions. Video 
Business Preparedness Initiative in Uganda. Video
Understanding risk: Enhanced vulnerability and capacity assessment platform. Video
Community resilience: Onlive reflections by community members.Video
Missing Maps: mapping the bottom billion in a free and open map. Video
Community Voices Portraits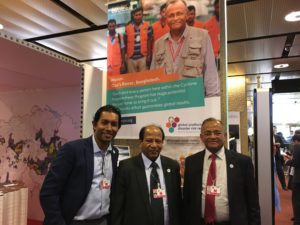 A series of large posters were located in the main hall of the venue. The portraits included the voice of community members referring to good practices on Disaster Risk Reduction from Bangladesh, Syria, Indonesia, and the Philippines. This activity was made in collaboration with the Global Network of Civil Society Organizations for Disaster Reduction (GNDR) and UNDRR.
Social media outreach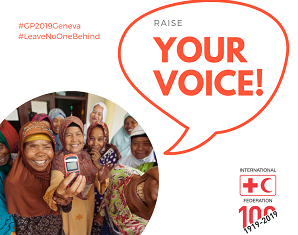 IFRC and the Global Disaster Preparedness Center (GDPC) implemented a social media campaign to engage with National Societies and communities around the world. The main objective was to bring community voices to the GPDRR 2019. The results are the increasing number of engagement in the GDPC communications channels: 96k impressions (representing more than 800% increase), 484 likes, 224 retweets, 10,823 followers.  
Side events 
IFRC: 100 years of building local resilience in the face of rising risks

Over 80 people from the Red Cross Red Crescent network participated in the pre-meeting launched on May 14 to review and discuss key achievements and challenges on resilience and disaster risk reduction work since Global Community Resilience Forum in Cali (2014). From 20 Red Cross Red Crescent National Societies, IFRC regional offices, two reference centers, and partner organizations engaged in world cafe sessions, panel discussions, and conferences to join efforts and align accordingly with the RCRC Strategy 2030. 
Early Warning Systems pre-conferences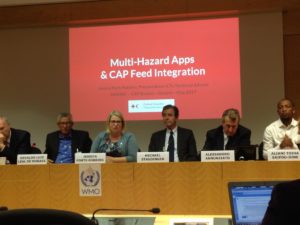 The World Meteorological Organization launched a pre-event on May 13 – 14th in Geneva, in which, GDPC colleagues shared the results about the Cyclone Preparedness Program in Bangladesh and Multi-Hazard Apps & Common Alerting Protocol Feed Integration.
WhatNow – Key preparedness messages Workshop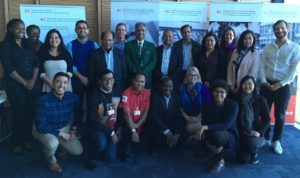 Nine National Societies along with representatives from IFRC, GDPC, regional offices, and Google participated in the WhatNow Service workshop on May 13th. The workshop had the objective to socialize the tool, key preparedness messages, API usage, and partnership outreach to disseminate key preparedness action messages through the WhatNow portal to better prepare communities.
Find more details on the following report.