Barriers and Opportunities for a Multi-Hazard Humanitarian Approach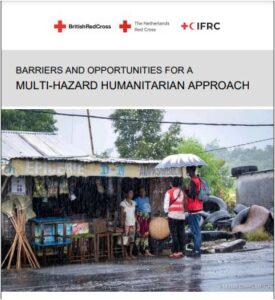 This report aims to provide major insights and recommendations for the implementation of a multi-hazard humanitarian approach drawing from the different experiences of staff members of the Red Cross Red Crescent (RCRC) Movement working in Africa.
This report is the result of a consultation process of 35 staff members, including branch and HQ NS staff, PNSs and IFRC representatives, from various departments, carried out between September and October of 2020. This consultation followed a preliminary survey carried out in August 2020 and was initiated by the "multi-hazard approach" sub-group of the ADMAG (Africa Disaster Management Advisory Group).
You can consult the report here: Multi Hazard Africa Consultation report 2021