Cash Conference: Towards Transformation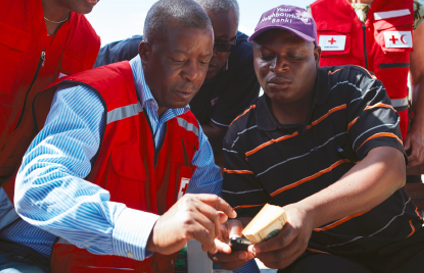 On September 13th, 2018 the British Red Cross convened a Cash Conference on behalf of the International Red Cross and Red Crescent Movement, guided by the theme 'Towards Transformation'. The event took place in Mary Ward House in London, UK. The day provided an opportunity to take stock of the humanitarian community's direction of travel and the transformative space cash transfer programming can occupy within that. In this session, panelists discussed what is happening at the intersection between the localisation of aid and the scale-up of cash transfer programming. Different models for this paradigm shift are explored; from developing the tools of local and national humanitarian actors to deliver cash programmes independently, to cutting out the intermediary completely.
Chair: Pascale Meige – IFRC, director of disaster and crisis.
Panellists:
Marwan Alawar – Lebanese Red Cross, disaster management director.
Nigel Timmins – Oxfam, humanitarian director.
Anahi Ayala Iacucci – Internews, senior director humanitarian programmes.
Mitch Riley – GiveDirectly, regional director and evaluation lead.
For more information, review the Cash Hub portal and download the summary report on the links below.
Cash Conference
https://www.cash-hub.org/news-and-events/news-articles/news-items/cash-conference-summary-report-executive-summary-and-recordings