Consultancy: Blended Learning approaches for First Aid using mobile technology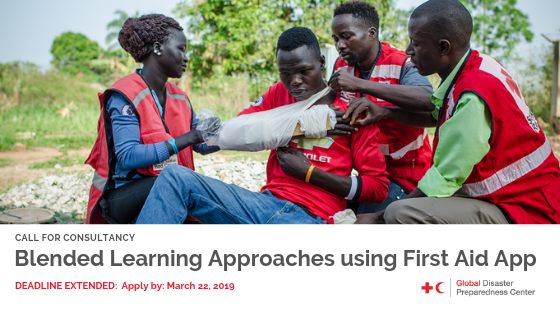 With the Universal App Program, the Global Disaster Preparedness Center (GDPC) has created a platform to facilitate the adaptation and localization of mobile applications (apps) with first aid and hazard information  to be used in countries across the globe, putting preparedness information directly into people's hands. 
The First Aid App enables users to learn about the first aid emergencies, test their knowledge through engaging quizzes and to quickly access guidance on the most relevant actions to take in different emergencies. 
Purpose
The purpose of this consultancy is to identify strategies on how to integrate the First Aid app into blended learning approaches to better support First Aid training. 
Scope of work
The objective of the consultancy is to better inform the GDPC on strategic engagement opportunities with National Societies on the First Aid app. The work will contribute to the broader discussion on how technology focused tools can be integrated into a holistic engagement strategy to bette support people's ability to prepare for and respond to First Aid emergencies. 
Deliverables 
Inception report including bibliography of relevant literature for blended learning and mobile learning, interview guidelines for KII, outline of methodology, outline of final guidance document.
Mid-term report convering progress to date and literature review. 
Guidance document ('ready-to-print' format and soft copy).
Final report including recommendations for enhancements of current First Aid app to support blended learning. 
Application 
Review the Terms of Reference for specific information about the requirements, timeline and selection process. Please send complete proposal electronically to GDPC (gdpc@redcross.org) specifying 'Blended Learning Approaches Using First Aid App' in the subject line. The last date of submission is March 22, 2019.
Universal App Program – GDPC
https://preparecenter.org/activities/universal-app-program