Related Resources
07 May 2014
The Asia Pacific zone covers 45 countries and 57% of all the disasters in the Asia Pacific are hydro-metrological in nature. Increasing climate risk threatens hard-earned development gains. A strategy for dealing with this is to better understand and...
Tags: Awareness material, Climate Change Adaptation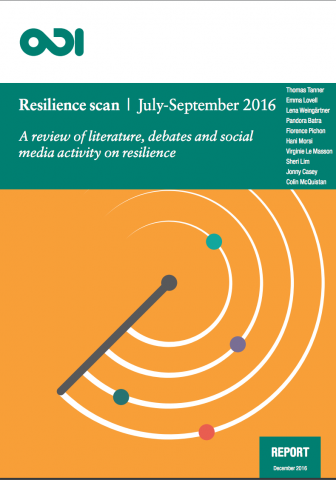 13 Jan 2017
. This 'resilience scan' summarises writing and debates in the field of resilience during the third quarter of 2016, focussing primarily on the context of developing countries as well as gender equality and resilience. The scan will be of particu...
Tags: Research, Urban Risk Reduction
17 Apr 2015
Flooding is a danger to both you and your home. In many lowland areas flash floods can appear from nowhere. To ensure you stay above water, follow these SAFE STEPS! Thai , Vietnamese , Malaysia, Chinese –mandarin, Indonesian , Tagalog, Cantonese ht...
Tags: Video, Flood