Mozambique: Cyclone Idai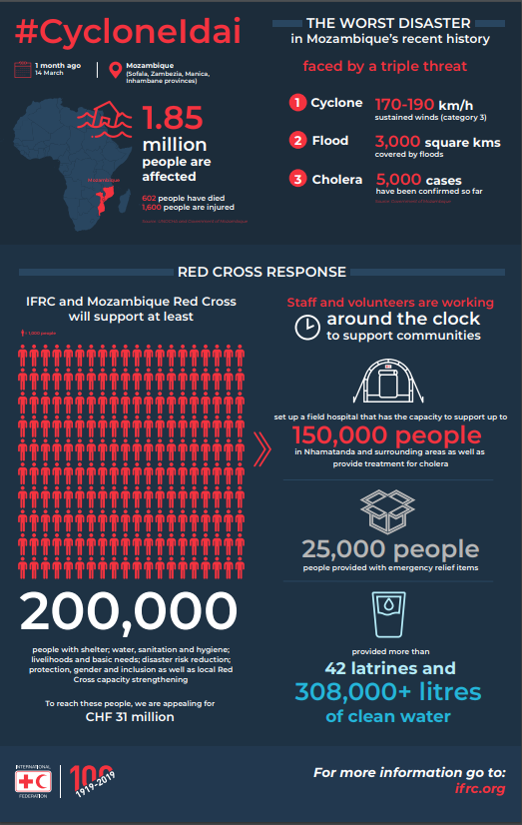 Originally shared by IFRC – 26 March 2019 
Cyclone Idai made landfall on the evening of 14/15 March, 2019 near the central Mozambican city of Beira. The cyclone -with  maximum sustained winds estimated as between 170 and 190 km/h brought torrential rains to Sofala, Zambezia, Manica, and Inhambane provinces. 
Thousands of homes were flattened by the cyclone and flooding continues as heavy rainfall over neighbouring Malawi and Zimbabwe is causing rivers in Mozambique to burst their banks. Large areas close to Buzi and Pungwe rivers have been severely flooded, up to several metres in some parts. Flood survivors have sought refuge in trees and on the roofs of buildings that are still standing. 
The cyclone has affected more than 1.85 million people, according to the United Nations. An estimated 483,000 people have been displaced by the floods, which cover mover than 3,000 square kilometres, according to the Mozambique government. An initial Red Cross areial assessment estimated than about 90 per cent of the city and its surrounds was damaged or destroyed.
On 25 March, the International Federation of the Red Cross Red Crescent more than tripled the amount it is seeking in its Emergency Appeal on behalf of the Mozambique Red Cross. The revised appeal calls for 31 million Swiss francs to support 200,000 of the most vulnerable people affected by the disaster for 24 months, with a focus on health, shelter and household items, water, sanitation and hygiene promotion, and livelihoods and basic needs. A preliminary appeal for 10 million Swiss francs had been launched on 19 March.
Find out more about the response and recovery actions on this video and infographic.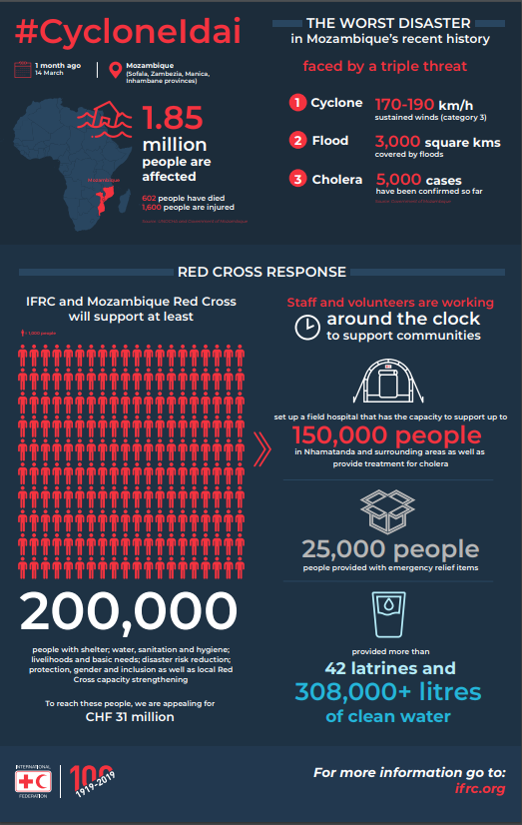 Originally posted on IFRC – 26 March 2019 
Lessons Learned :
Supporting Materials :
20190416-mozambique-onemonth-infographic-2.pdf