Old Ways to Deal with New Problems, in the Solomon Islands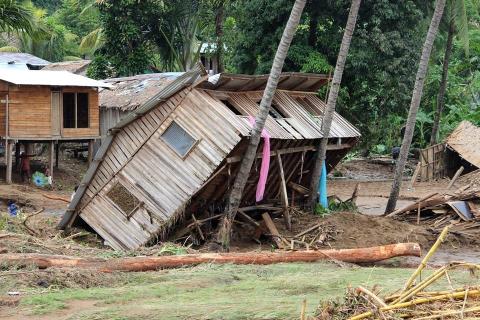 "The water level is rising. The area we used to work, we can't work any more" – Silas Kere, farmer.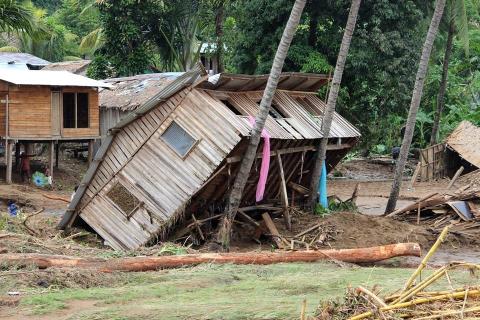 The Solomon Islands, part of the South Pacific "Ring of Fire", briefly trended in the world news in April 2014, when it suffered two serious earthquakes weeks after flash floods had devastated the capital, Honiara.
The inhabitants of the Solomon Islands are no strangers to hardship. Climate change has brought with it a change in weather patterns and increases in pests and fungus, on top of the sudden catastrophe of flooding, earthquake and the resulting tsunami.
Farmers like Silas Kere are trying to re-introduce original plants and crops which are more resistant, returning to old ways in the face of new problems.
It could be said that the rest of the world is familiar with some of the old ways of the Solomon Islanders.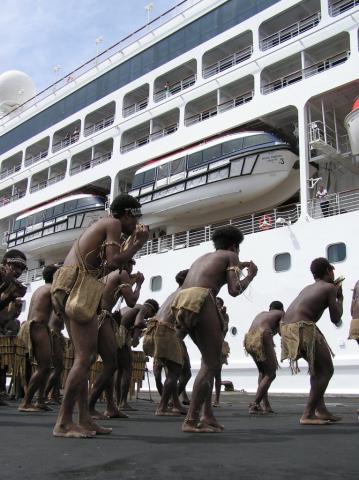 However, cruise ships do not disembark passengers at Ghatere, a village on Kolombranga Island, where its people ceaselessly tend fields of yams, taro, sweet potatoes and cassava in the middle of the jungle.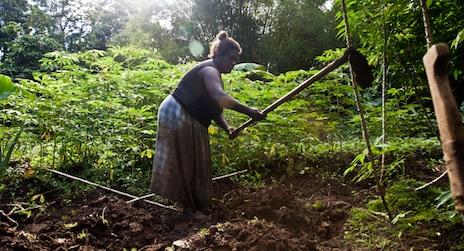 To protect their crops from the water, the community had to create their gardens in remote areas of the island, experimenting with different agricultural techniques and using trial and error to see which plants thrived under the changing weather conditions.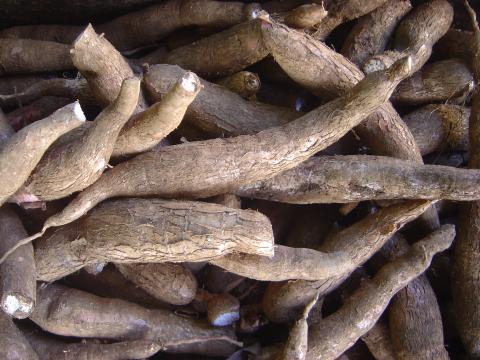 As well as adapting their livelihoods, communities in the provinces of Guadalcanal, Malaita and Western have been assessing their risks and capacities, and establishing village disaster response committees.
These committees coordinate village efforts to prepare and plan for different disaster scenarios. By carrying out simulation exercises focused on the hazard with the highest frequency and impact, villagers are practising to ensure that their alert mechanisms work, that evacuation routes are accessible to all, and that their reporting to the authorities is accurate and effective.
In the Solomon Islands, the French Red Cross and the European Commission's Humanitarian Aid and Civil Protection department (ECHO) have carried out community-based disaster risk reduction programmes with 18 communities in the three provinces of Guadalcanal, Malaita and Western.
·         5,207 people have directly benefited from the project.
·         16 disaster simulation exercises have been carried out with communities.
·         18 village action plans have been updated.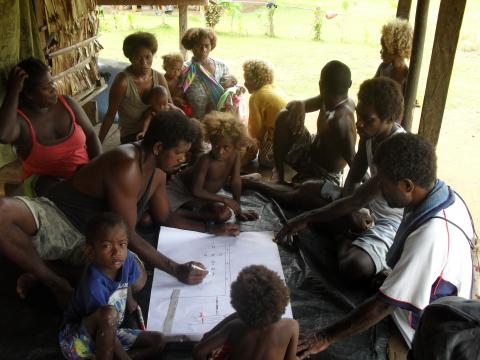 With the support of the European Commission's Humanitarian Aid and Civil Protection department (ECHO), the French Red Cross has been working with the Solomon Islands and the Vanuatu Red Cross National Societies since 2010 to strengthen community resilience in Vanuatu and the Solomon Islands. Project partners have worked with government authorities and 47 village communities to increase coordination and support preparedness in order to reduce the impacts of natural disasters in the region.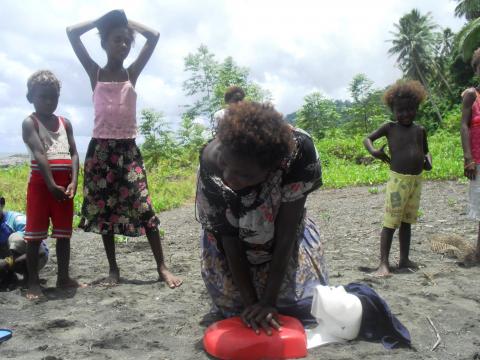 Village disaster response committees have been set up in each village, and Village Action Plans have been developed identifying risk reduction activities for villagers, as well as locations for emergency shelter and relief delivery. In order to ensure the long-term sustainability of activities, training has been provided in first aid, as well as reporting, monitoring and budgeting, and mechanisms for village-to-village learning have been set up so that experiences and lessons learned can be shared.
This story is part of the Disaster Resilience Journal. The Disaster Resilience Journal is an interactive documentary that examines how individuals, communities and countries around the world are building resilience in a landscape of climate change, and social, economic and cultural shifts. Discover the set of 42 stories, games, maps, interviews and quizzes that make up the Disaster Resilience Journal at:
http://www.disaster-resilience.com/
With 90% of the lives saved after a disaster down to the actions of local people, first aid awareness can play a vital role in disaster preparedness and risk reduction. Test your first aid knowledge with the "What to do?" micro-quiz on Day 9.

Lessons Learned :
Supporting Materials :