1st Asia Pacific Regional Heatwave Meeting: Key Recommendations and Call to Action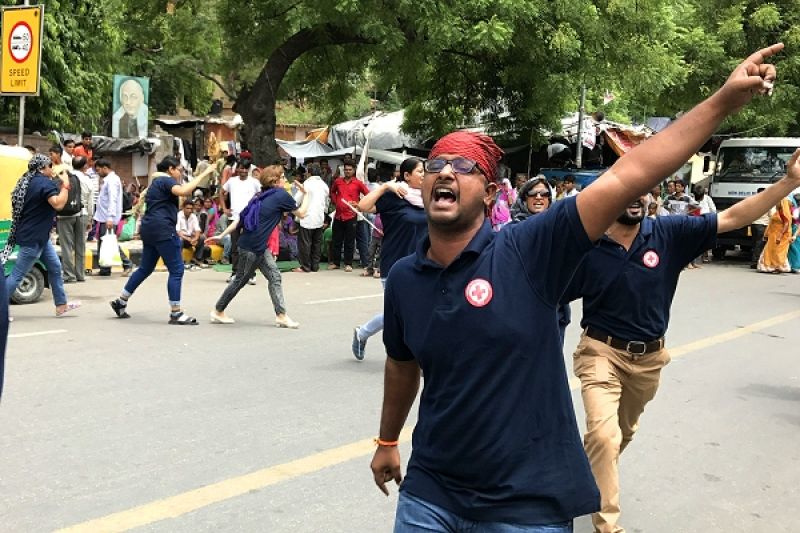 1st Asia Pacific Regional Heatwave Meeting : a collective success of policy, praxis, research, and humanitarian leadership
Heatwaves, or silent disasters, are increasingly common and can seriously affect human health, well-being, and livelihood. In the past decade severe heatwaves have claimed numerous lives in Asia Pacific. Heatwave exposure will continue to increase, even in countries where heat has not been an issue in the past, and as a result of climate change heatwave exposure will increase.
On May 11 – 12, the 1st Regional Heatwave Meeting, convened over 75 participants, spanning RCRC National Societies, Research and Academia, UN, City Networks and IFRC Country and Country Cluster Delegation staff.
On Day 1 attendees received a cross-cutting overview of regional heatwave impacts in Asia Pacific, vulnerability of specific groups to heat, and practical actions to save human lives within the mandate of the Red Cross Red Crescent. Throughout, participants engaged in discussions regarding needed technical and thematic support.
Day 2, participants learned from practical examples how timely, simple, low-cost and at scale actions can drastically reduce impacts due to extreme heat from practitioners. Following, participants received an overview of the latest, cutting-edge heatwave research underway, and opportunities for RCRC and partners to harness regional and global collaboration.
Synthesis of Key Recommendations
This 1st Heatwaves Regional Meeting provided valuable insights on how to achieve the global RCRC Movement target to better protect 250 million people from heat by 2025 in at least 150 cities and towns, to start:
Address Heat-health as a National Society priority. Integrate Heat-health within all existing Public Education and Public Awareness, First Aid, activities for heatwave prevention and management.
Heatwaves can be forecasted – anticipate impact and act early. Anticipatory humanitarian actions triggered by impact-based Heatwave Early Warning Systems (EWS) yield positive outcomes to protect those most vulnerable from extreme heat.
Heatwave impacts are cross-cutting, demanding holistic action, across timescales. Heatwaves impact health, livelihoods, ecosystems, resources and infrastructure, across rural and urban environments, and as we have seen with COVID-19, compound existing hazards and amplify risk. Their cross-cutting impacts must be addressed holistically, also as part of longer-term Disaster Risk Reduction strategies and plans, for example, linking to Nature-based Solutions to reduce exposure to disasters and climate change impacts.
Harness collective and collaborative action. The scale and systems-thinking required to solve the complexities of heatwaves demand use of local and scientific knowledge, and benefit from dynamic local to global partnerships. For example, heatwave anticipation requires substantial support and collaboration with Hydro-Met Offices, science-based organizations to develop efficient heatwave Early Warning Early Action systems linked with local/national meteorological systems. Urban heatwave action will flourish from strong coalitions to address Heat-Health impacts in cities, and provide a viable entry point to increase awareness on heatwaves as an emerging risk, and advocate for the institutionalization of Heat-Health Action Plans. Engaging with social and health science research throughout our heatwave endeavors will give way to new insights on methods for evidencing and communicating the heat-health risks.
Call to Action: Strengthening Synergies Between Research, Policy and Humanitarian Action
Recognizing the interconnected nature of heatwaves and climate change, its diffuse nature, and the need of action across the globe and timescales, key partners from UN, research and academia and the Global Heat Information Network called upon strengthened synergies between research, policy and humanitarian action.
Highlighting the specific opportunities and roles for RCRC movement to engage globally and at the national and local level, the IFRC and National Societies are uniquely positioned with it's people-cantered approach to:
enhance the understanding of the heat risk and impacts;
support local governments to scale up their preparedness and anticipatory action capacities for managing risks and events and to;
connect efforts on local and community development with focus on climate adaptation and risk management.
The relevance of addressing heatwaves in the Asia Pacific is clear, as is the willingness to tackle heatwaves jointly. Not only is there a high level of ambition, but also a diversity of regional good practices and expertise to support the wider RCRC Movement and global partners to reach the IFRC global target to protect 250 million in 150 cities by 2050 from extreme heat. Collaboration within and beyond the RCRC Movement will be the cornerstone of this global ambition.
Read all about heatwave impacts and inspiring Asia Pacific heatwave action currently underway in the 1st Asia Pacific Heatwave Meeting Report and peruse 1st Regional Heatwave Presentations.