On the Path to End the Gender Gap in Humanitarian Action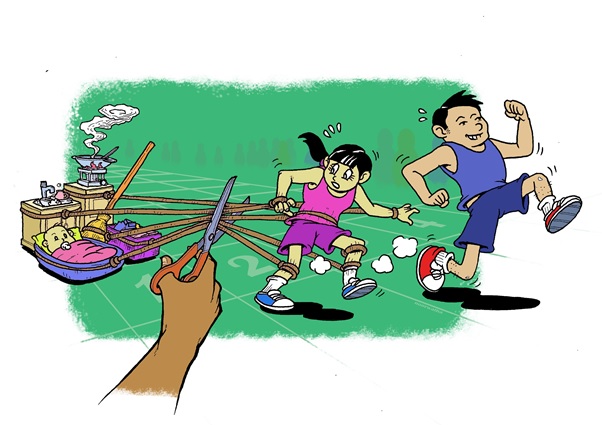 On the Path to End Gender Gap in Humanitarian Action
One of the pressing issues consistently being brought to the floor of discussion is The Gender Gap in Humanitarian Action. Crises impact women, men, girls, and boys of all ages in different ways. Hence, their needs, interests, coping strategies, and access to resources, differ accordingly.
Natural disasters and conflicts intensify pre-existing gender inequalities and discrimination experienced by women and girls. The collapse of protection mechanisms and the destruction of essential services and economic structures, exacerbate their already marginalized position leading to further vulnerability due to their lack of access to – and control of – the resources and viable coping strategies they need.
Estimations that reflect women's suffering are shocking. According to the 2019 Global Humanitarian Overview report cited by UN Women, 60 percent of the preventable maternal deaths take place in settings of conflicts, displacement, and natural disasters. Up to 30 percent of internally displaced families in Yemen for example, are female-headed, compared to approximately nine percent before the current crisis.
Nevertheless, women play an indispensable role in enabling effective, efficient, and sustainable humanitarian responses. Women are always amongst the first responders to a crisis, and they are part and parcel of the process of survival, recovery and resilience of families and communities.
Addressing the Gender Gap in Humanitarian Action came with some relentless efforts and insightful solutions. Two significant measures have been taken in 2018 & 2019 to overcome the gap. A Gender Handbook for Humanitarian Action was launched in 2018 by the European Civil Protection and Humanitarian Aid Operations (ECHO), UN Women, and the Inter-Agency Standing Committee (IASC) - the global inter-agency coordination mechanism for humanitarian action. Likewise, in 2019, a Feminist approach to boost gender equality in humanitarian action has been adopted by Canada. Below is more information about both: the Handbook, and the Feminist Approach that targets diminishing the gender gap in humanitarian action.
The Gender Handbook offers practical guidance to frontline humanitarian workers on how to integrate gender equality and the empowerment of women and girls throughout the humanitarian program cycle. To date, 7,000 copies of the handbook in English, French, Arabic, and Spanish, have been distributed to over 80 different humanitarian agencies in 46 different countries. More information and the handbook is available here.
On one hand, in the Gender Handbook, UN Women is exploring how blockchain technology can be leveraged to empower women and girls in humanitarian settings. The organization recognizes that while technology alone is not a panacea and cannot solve core problems within the humanitarian system, it could be an enabler providing new tools for more efficient funding and for promoting self-reliance, agency and empowerment.
UN Women also offers a Second Chance Education Program leveraging these technologies to provide women including young women with both physical and virtual learning environments as well as access to quality learning materials linking to employment opportunities.
On the other hand, Canada has adopted a Feminist International Assistance Policy to reduce poverty and build a more peaceful, inclusive and prosperous world. This Action Area policy provides additional guidance on what Canada aims to achieve through its humanitarian action as outlined in the Feminist International Assistance Policy.
This policy guides Canada's humanitarian assistance programming, and advocacy and strategic policy efforts, through targeted and cross-cutting approaches. Canada knows that promoting gender equality and empowering women and girls is the most effective way to achieve this goal. Canada's feminist approach is human rights-based and inclusive. It is strategic and focused, transformative and activist, and evidence-based and accountable.
The Feminist Approach simply indicates that when questions of gender equality are not sufficiently considered in the implementation of humanitarian action, the effectiveness and impact of humanitarian assistance diminishes. Insufficient consideration of pre-existing vulnerabilities means that humanitarian responses do not systematically or adequately meet the specific needs of women and girls.
For example, when responses do not take the specific needs and rights of women and girls in displacement camps into account, such as safe places to wash and access to toilets, women are more likely to face sexual and gender-based violence, further undermining their security, dignity and well-being. Women also play a key role in their families and their communities. When they cannot meet their own basic needs, the entire community suffers. For example, when humanitarian responses include specific measures to facilitate women's access to food supplies, the level of hunger in households drops.
In conclusion, one can simply grasp the fact that women and girls are disproportionately affected by conflicts and natural disasters. Yet, they also have the ability to contribute to humanitarian efforts and reduce suffering and, beyond humanitarian responses, to facilitate reconciliation, participate in peace processes and rebuild their communities.
In 2021, let's fight to eliminate the Gender Gap in Humanitarian Action. Let's bring more women to round table discussions. Let's engage more women in peacebuilding, and decision-making processes.
Sources:
Photo Credit: Winner of the comic competition in Indonesia, by artist I Kadek Noorwatha