Situation Assessment study about disaster and emergency preparedness of NGOs that work or have the potential of working in disaster areas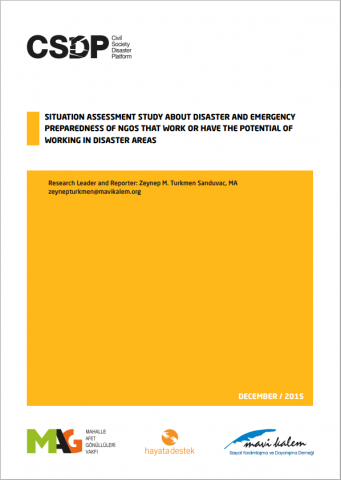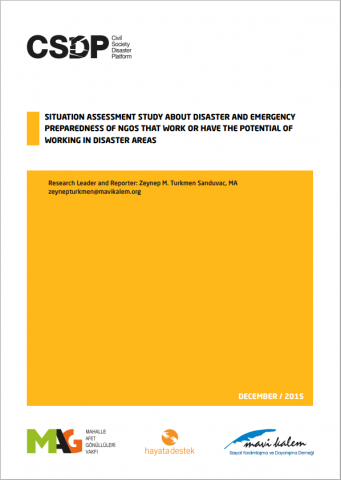 This study was conducted with the purpose of measuring the disaster and emergency readiness of organizations that work or that have the potential of working in disasters and emergencies. Within the scope of the study, a web-based questionnaire was applied between the dates of August 28 and October 26, 2015, and comprised 25 questions. The sample included 219 organizations that work, or those have the potential of working in disasters and emergencies, each of which was invited via e-mail to complete the online questionnaire. The questions and findings with regards to the organizational disaster and emergency plan were grouped under 3 components:
i) Risk Analysis and Planning;
ii) Physical Protection Measures;
iii) Response Capacity.
Key findings include:
– The organizations are active in all stages of the disaster cycle, with an almost uniform distribution.
– Only less than one thirds of the NGOs are ready to help the affected people after a major disaster, within the framework of their purpose of incorporation.
– Almost all of the organizations declared that they needed to be trained on EAD and BC Planning.
– Physical Protection Measures: Slightly more than half of the organizations were found to have developed partial sensitivity about earthquake and fire hazards and declared that they had the required equipment to ensure fire safety.
– Response Capacity: A vast majority of the NGOs are not sufficiently prepared and equipped in terms of their "response skills" to a major disaster or emergency.
– In particular, the NGOs have a lack of awareness and knowledge on the content of "first response skills".
– The preparations of organizations are mainly either on paper, or yet to be put into practice and/or yet to be institutionalized, or only superficially implemented.
Civil Society Disaster Platform (CSDP), 2015
Online Report
http://www.preventionweb.net/files/48412_ngodrrsurveyturkey2016.pdf