Disability Inclusive Disaster Preparedness
Disability Inclusive Disaster Preparedness
According to the World Report on Disability, there are over one billion persons who live with some form of disability, corresponding to about 15% of the world's population. The prevalence of disability is growing due to an ageing global population and increases in chronic health conditions. Available data reveals that persons with disabilities, compared to the general population, are more vulnerable in the face of such disasters. For example, evidence shows that the mortality rate of disabled population is two to four times higher than that of the non-disabled population in many disaster cases. Persons with disabilities are disproportionately affected in disaster, emergency, and conflict situations due to inaccessible evacuation, response (including shelters, camps, and food distribution), and recovery efforts.
Household
To be better prepared we all must do our part to plan for disasters. All individuals, with or without disabilities, can decrease the impact of a disaster by taking steps to prepare before an event occurs. You are in the best position to plan for your own safety as you are best able to know your functional abilities and possible needs during and after an emergency or disaster situation. Once you know what kind of disasters occur in your area and what are the effect of disasters on you and your community you can cope with disaster by preparing in advance with your family and care attendants. You will need to create a personal support network and complete a personal assessment of your needs. You should also collect information and take actions that will help you meet your needs during evacuations and after the disaster happens. In addition, gather essential supplies you will need during and after a disaster, especially those specific to your disability.
Finally, you will also need to follow the four preparedness steps:
1. Get informed
2. Make a plan
3. Assemble a kit
4. Maintain your plan and kit.
Knowing what to do is your best protection and your responsibility. For guidance material on personal assessments, personal disaster preparation, disaster supplies and how to make you home or office safer read: Disaster Preparedness for People with Disabilities from the American Red Cross.
Community Organization
Disaster Management Professionals and community organizations should consider the varied needs of people with disabilities in all levels of their planning and response activities, and actively involve members of this community in their efforts; and raise the awareness among people with disabilities about what they can do to prepare for their own safety and survival during disasters, and encourage them to become partners with emergency management professionals.
In addition, some key points of inclusion in phases of disaster management are:
Strengthen disability networks during the preparedness phase.
Identify capacities of persons with disabilities as well as the barriers persons with disabilities face in case of an emergency.
Involve persons with disabilities in planning and managing inclusive and targeted early warning systems.
Ensure that emergency evacuation centres are accessible.
Address disability issues from the outset of the emergency.
Consider lack of visibility as a possible sign of exclusion.
Consult persons with disabilities about shelter and settlement needs, and monitor the inclusiveness of the response.
Involve disabled people's organisations in the recovery.
Ensure that persons with disabilities can influence shelter designs and participate in reconstruction efforts.
In the recovery phase, build back safer and more accessible.
[Source: All Under One Roof Disability-inclusive shelter and settlements in emergencies, IFRC, International Federation of Red Cross and Red Crescent Societies, Geneva, 2015]
For people who have physical, medical, sensory or cognitive disabilities, emergencies such as fires, and floods present a real challenge. Persons with disabilities have everyday needs relating to their health and well-being, their economic and social security, and their ability to learn and develop skills and to live in their communities. They need to have access to services provided in times of conflict, disaster and peace through their development work, global initiatives and disaster-preparedness programs and activities. Knowing about disaster threats and their aftermath and being prepared are critical for staying self-sufficient after a disaster, if people are prepared ahead of time, they will be better able to cope with the disaster and recover from it more quickly. The international red cross and red crescent movement recognizes obligations under IHL and international human rights law and requires that all necessary measures are undertaken to ensure the protection and safety of persons with disabilities in situations of risk, including situations of armed conflict, humanitarian emergencies and the occurrence of natural disasters. The disability inclusive Disaster Preparedness Planning has two main objectives:
Ensure that the functional needs of people with disabilities are adequately addressed prior to an emergency, enabling emergency responders to make informed decisions regarding the best use of available resources.
Ensure that people with disabilities are included in the emergency-planning process at all levels of government and the private sector so they can offer their insights, knowledge, and resourcefulness.
[Source: National Organization on Disability , IFRC ]
Here is a checklist for recommendations on how to increase the disaster preparedness of communities, including persons with disabilities: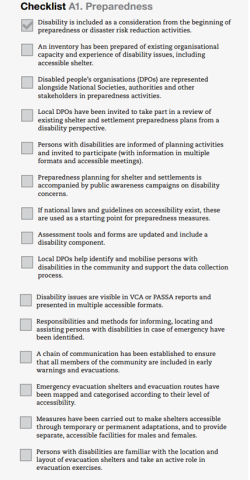 [Source: All Under One Roof Disability-inclusive shelter and settlements in emergencies, IFRC, International Federation of Red Cross and Red Crescent Societies, Geneva, 2015]
Disability: "Persons with disabilities include those who have long-term physical, mental, intellectual or sensory impairments which in interaction with various barriers may hinder their full and effective participation in society on an equal basis with others." UN Convention on the Rights of Persons with Disabilities, 2006.
Disabled people's organisations (DPOs): DPOs are organisations run and controlled by persons with disabilities, often working to increase awareness and access to services and public life. Not all persons with disabilities are members of DPOs, but the organisations can play an important role in identifying and addressing needs in an emergency.
Impairment: Impairment is one component of disability and refers to the partial or complete loss of a limb, organ or other body structure as well as mental functions. The other components of disability are activity limitations and participation restrictions. (WHO)
Inclusion: Inclusion means a rights-based approach to community programming, aiming to ensure persons with disabilities have equal access to basic services and a voice in the development and implementation of those services. At the same time it requires that mainstream organisation make dedicated efforts to address and remove barriers.
Vulnerability: "The characteristics of a person or group in terms of their capacity to anticipate, cope with, resist and recover from the impact of a natural or man-made hazard."
[Source: All Under One Roof Disability-inclusive shelter and settlements in emergencies, IFRC, International Federation of Red Cross and Red Crescent Societies, Geneva, 2015]